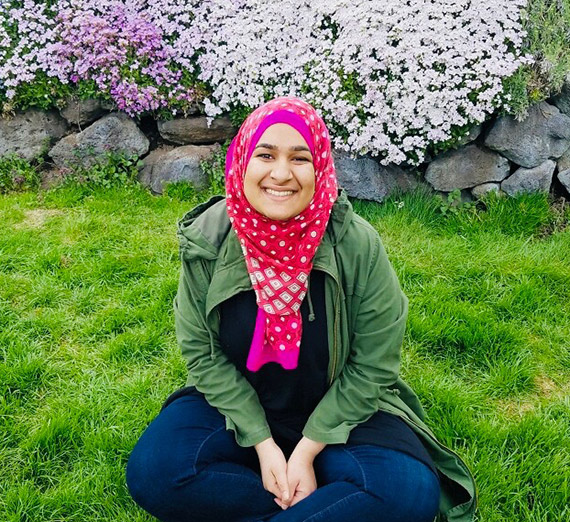 2019 Award: Psychology Department Commitment to Service Award
Major: Psychology
Minor: General Business
Hometown: Sunnyvale, CA
Extracurricular activities: CCE- Connections, CCE- SMILE, CCE- Zag Study Buddies, Walking School Bus, Diversity Monologues
About the award
In keeping with Gonzaga University's mission to educate "students for lives of leadership and service for the common good," this award recognizes a senior psychology major who has made a powerful, positive contribution to others during the student's time at Gonzaga.
This year's award goes to Zaineb Siddiqee. Zaineb has served as a volunteer mentor and student leader all four years of her college experience. She led Zag Study Buddies and Connections, two middle school youth programs through the Center for Community Engagement (CCE) at Gonzaga University. Zaineb has worked with over 65 youth and their families at Shaw Middle School. She created activities that allowed students the opportunity to try something new. These ranged from science- and math-based projects to story creation and writing. Zaineb has given each student the chance to find their spark in a place where they feel welcome and safe.
Thank you for your commitment to this excellent, important work.
More about Zaineb
Future Plans:
After I graduate, I plan to serve as an AmeriCorps member through CityYear back home in the Bay Area for the 2019 – 2020 school year. I am really excited for the opportunity to go back and serve my own community that has helped me get to where I am today. After my year of service, I plan to pursue my master's to become a school counselor. I'm not exactly sure where I am going to end up for graduate school and life after that, but I am ready for my next adventure!
How has your major contributed to your professional or personal development?
When I started as a psychology major, I was not really sure what I wanted to do with my degree. However, throughout my time as a psychology student, I have benefitted from my psychology major in my professional and personal development. Through lectures and class discussions, I gained perspective on the many factors that affect an individual's health and how they interact with the world. This knowledge influenced my personal development, where I gained the tools and skillsets to cultivate healthy relationships with those around me. I am thankful for all that I have learned from my psychology professors. To my psychology professors—thank you for all that you do!
What has been your proudest or most significant accomplishment during your Gonzaga career?
My most significant accomplishment has been the personal growth I have gone through. I started as a shy and timid first-year student, and now I have become the confident young woman that I am today. I proud of the times I pushed myself outside of my comfort zone so that I could grow. I would not be where I am today without those experiences. I am forever grateful for all those who have pushed and supported me throughout my journey. It is because of my support network that I have been able to grow and flourish.