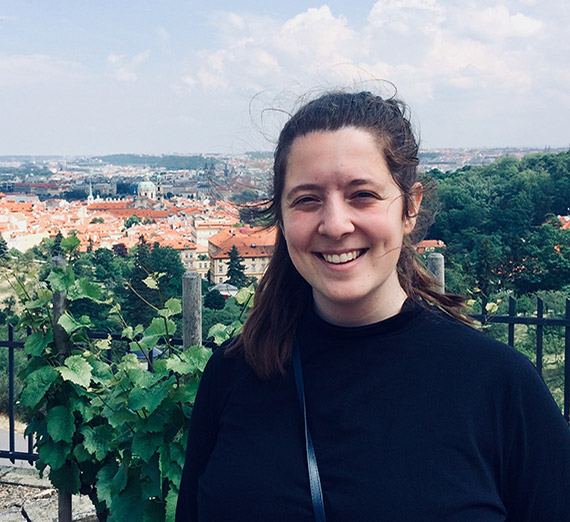 2019 Award: Environmental Studies Exemplary Senior Award
Major: Environmental Studies
Minors: Biology and French
Hometown: Wauwatosa, WI
Extracurricular activities: Peer Ambassador; English Language Center; Researcher, Bancroft freshwater ecology lab; Club member, Real Food Gonzaga; Tutor, athletic department; Volunteer shift leader, Campus Kitchens; Assistant editor, Our Voices: Journal of Culture and Diversity; Science in Action!
About the award
Elizabeth Terry is the awardee for the 2019 Environmental Studies Exemplary Senior Award, which honors the graduating senior student in the department with the highest GPA.
Elizabeth's GPA is certainly outstanding, but she is much more than a student with excellent achievement in the classroom. In addition to her B.A. in Environmental Studies, Elizabeth has minors in both French and Biology and completed a rigorous study-abroad program in Copenhagen, where she studied Polar Biology, Biodiversity and Conservation, and Biology of Marine Mammals. Elizabeth has worked in science and land management, as an undergraduate researcher in both the Bancroft Lab and the Staub Lab in the Biology Department, and at the Urban Ecology Center in Milwaukee, WI. She is committed to lifting others up in their academic pursuits, as demonstrated by her work as an ELC Partner and Peer Ambassador in the English Language Center at GU, as a teaching assistant for the non-majors Biology laboratory course, and as a tutor for the athletic department, in addition to working with K-12 students through Science in Action!, SEA Literacy, and the Zoological Society of Milwaukee. Elizabeth is the assistant editor for the Our Voices journal at GU, where, among other contributions, she co-created the online "I Am" campaign, which gives students an avenue through which they can share their unique identities. She has been active in the Real Food campaign at GU and in the student club GEO, where she worked to make campus a more sustainable institution. Elizabeth embodies both the mission of the Environmental Studies Department and the University through her care for others, commitment to diversity and intercultural competence, global engagement, and care for the planet.
More about Elizabeth
Future Plans:
Eventually I hope to go into a career in marine ecology and conservation. This summer I will be working at a marine science learning center in Maine. In the fall I will be working in Wales on a bottlenose dolphin population monitoring project. After that, I plan to travel and begin applying to grad school.
How has your major contributed to your professional or personal development?
Both my Environmental Studies major and my Biology and French minors have encouraged me to approach life from an analytical, global, and compassionate perspective. Thanks to my classroom experiences in these subjects, I am entering into my future career with an understanding that making positive environmental change is challenging because there are so many different worldviews, but it is necessary and rewarding work.
What has been your proudest or most significant accomplishment during your Gonzaga career?
I don't think there is a single moment or accomplishment that I am most proud of, but rather an accumulation of small things that have all added up to overall personal growth. I have been excited every time I have stepped outside of my comfort zone or said yes to a new experience. I am also very proud of the friendships I have made; the relationships I have formed with others have been the most meaningful part of the last four years.