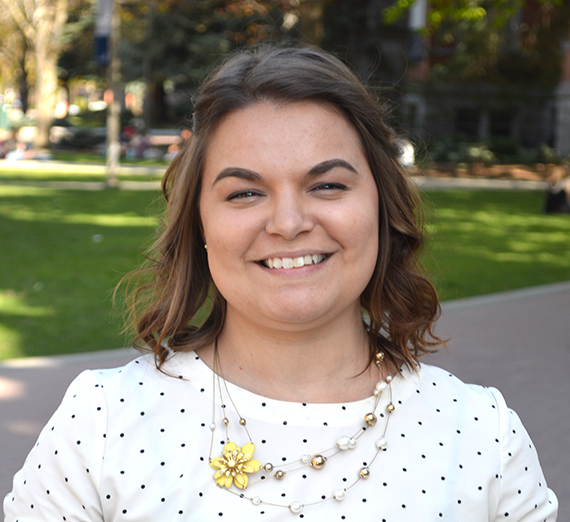 2018 Award: Communication Studies Outstanding Student Award
Major: Communication Studies
Minor: Hogan Entrepreneurial Leadership Program and Promotions
Hometown: Clarkston, WA
Extracurricular activities: Gonzaga Ambassador, writer for Gonzaga Magazine, Iota Rho-Lambda Pi Eta President, Lead Editor of The Fringe, volunteer with Meals on Wheels, homeless outreach, and The Fig Tree
About the award
Sidnee Grubb lives out the life of the academic, communications scholar, and more importantly, brings it into the light of our Jesuit, justice-centered education. She represents the department as president of Lambda Pi Eta (Iota Rho), our communication honors society. She has planned conversations with faculty about their research and community engagement events for the department. Sidnee continually sets the bar of what it means to do good work, be proud of that work, and make the most of an assignment so that it never is "just another paper." She focuses on the purpose of her academic studies and research and brilliantly finds a way to connect it to the community and the world around. We can't wait to see her impact on our world.
More about Sidnee
Future Plans:
I will be moving to Portland, Oregon, to work for Microcosm Publishing as their Operations Manager.
How has your major contributed to your professional or personal development?
I do not merely study communication, I live communication. Every challenge I face, opportunity I am granted, and ability I possess has been influenced by and will be influenced forevermore by what I've learned in the communication studies program. Communication studies has developed in me the ability to apply a critical and interpretive lens to the endless problems of the world, the connections yet unmade, and the people and problems that need care, service, and solidarity. In a personal sense, it's developed me into a calm, well-spoken, confident, creative, and thoughtful professional with unique insights to contribute to any work space.
What has been your proudest or most significant accomplishment during your Gonzaga career?
Freshman year: Being accepted to the Gonzaga Ambassador program
Sophomore year: Bringing Global Neighborhood (local thrift store/refugee employer) to campus for an open-air market.
Junior year: Overcoming severe depression.
Senior year: Being the first in my family to graduate from a four-year university before the age of 30.