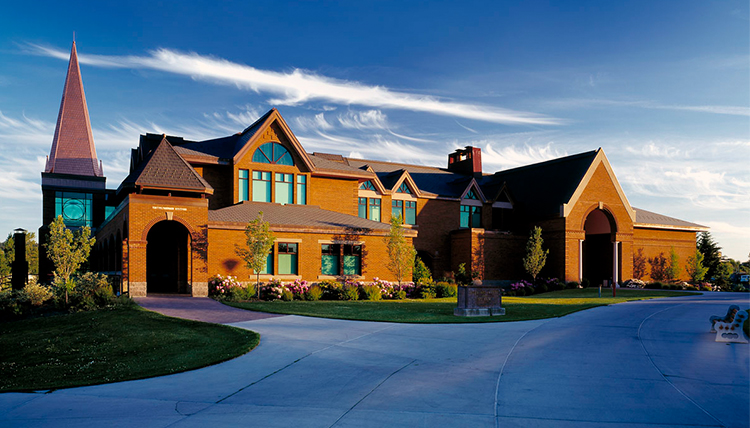 The beautifully-situated Jundt Art Museum houses the University's growing permanent collection of almost 5,000 objects, and presents special, temporary art exhibitions. During the year, the Museum exhibits works by local, regional, national, and international figures in many different media.
Gonzaga's robust collection includes works by old masters (Dürer, Rembrandt, Goya, and Delacroix) as well as modern masters (Rodin, Picasso, Chihuly, and Warhol).
The museum houses a major research facility - the Print Study Room - which contains a range of materials on individual artists and art history. Additionally, it provides access to the electronic catalog of the Museum's holdings.
---
Hours
10 a.m.-4 p.m., Monday through Saturday; closed for University holidays.
Location
Located on the southwest end of the Gonzaga campus.
(509) 313-6843
Wheelchair access available.
Free visitor parking is available at the museum accessed off of DeSmet or Pearl streets.
Exhibitions and events are FREE and open to the public.
---
Matt Lipps, Alongside Photography
The Visiting Artist Lecture Series
Wednesday, April 17, 2019, 6:30 p.m.
Jundt Auditorium (Rm Jundt 110)
The Visiting Artist Lecture Series welcomes Matt Lipps to the Jundt Art Museum on the campus of Gonzaga University. With images collected over many years from familiar sources such as "Time" and "Life" magazines, Lipps builds three-dimensional collages and tableaus. He then stages and lights these "still lifes" using theatrical techniques, then photographs them using a large format analog camera.
About Matt Lipps
Born in Los Angeles, California, Lipps earned his BFA in Photography from California State University, Long Beach and an MFA in Studio Art from the University of California at Irvine. He teaches at the University of California, Los Angeles, and San Francisco State University. His works can be found in the collections of Los Angeles County Museum, San Francisco Museum of Modern Art and the Saatchi Gallery in London, to name a few.
The Visiting Artist Lecture Series
(VALS) is a consortium that includes Spokane Falls Community College, The Jundt Art Museum, Eastern Washington University, and the Sahlin Foundation. Each year VALS brings three visiting artists to Spokane for free community events that include artist workshops, talks, exhibitions and discussions. VALS is dedicated to the cultural enrichment of the Inland Northwest. All VALS events are free and open to the public.