Glen Alps: from the Collection
May 24th through August 13, 2021, Arcade Gallery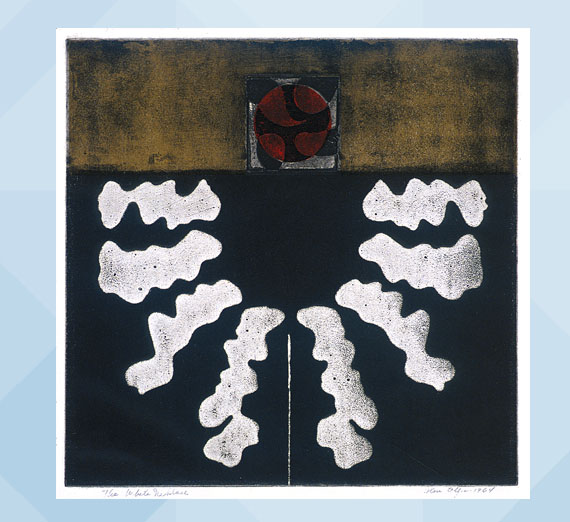 Glen E. Alps (American, 1914-1996)
The White Necklace, 1964
Intaglio, Collagraph, and Embossing
Jundt Art Museum, Gonzaga University; Gift of A. Fae Tegtman
Glen Alps was a printmaker and educator who is credited with having developed the collagraph. He disseminated the techniques he developed for the making of collagraphs during his long career as and artist and teacher at the University of Washington. Alps work in printmaking was in keeping with the realism of American Regionalists, Thomas Hart Benton and Grant Wood but by 1947 his work became influenced by the Northwest Mystics and had turned toward abstraction and vivid color, judiciously used. The Jundt Art Museum is proud to have 174 holdings of Alps, the bulk of which was gifted to the Museum in 2004 by his widow, A. Fae Tegtman. This exhibition includes 37 prints, numerous plates, matrices, and proofs.
---
2nd Triennial Inland Northwest Juried Landscape Art Exhibition
Date TBD
SUBMISSION: Details are forthcoming
Coming soon, the Jundt Art Museum at Gonzaga University will present the 2nd Triennial Inland Northwest Juried Landscape Art Exhibition, organized by the staff of the museum.
This juried display, now occurring at Gonzaga University every third summer, seeks to present the diversity and dynamism of contemporary artistic activity in the Inland Northwest while celebrating the relationship between art and the local landscape.
Selection of works and award winners for the 2nd Triennial Inland Northwest Juried Landscape Art Exhibition will again be made by the staff of the Jundt Art Museum. Works will be chosen for the show based upon the museum staff's understanding of artistic quality and merit, the work's adherence to the landscape theme and issues, the educational and professional achievements of the artist, and the observance of the rules and guidelines of the application process.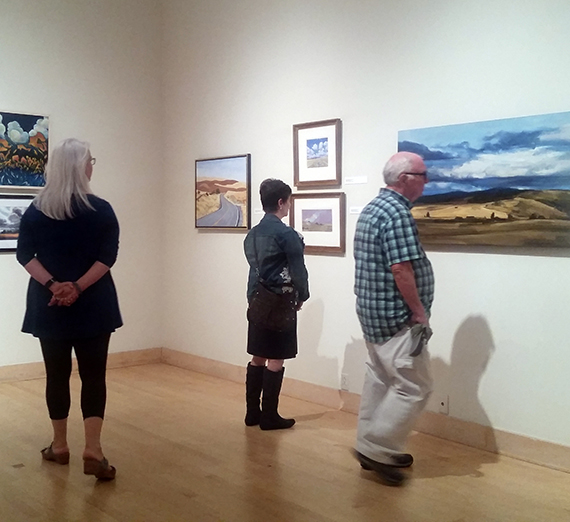 The first Inland Northwest Juried Landscape Art Exhibition was held at the Jundt Art Museum from May 26 to August 11, 2018, and attracted almost 4,000 visitors to campus during the summer months. The award winners for the 2018 show included 1st place winner Amalia Fisch (Spokane, Washington) for her oil on canvas painting Kettle River Patchwork, and 2nd place winner Scott Bailey (East Wenatchee, Washington) for his painting 46˚ 51' 06" N 121˚ 45' 28" W (Delaunay Triangulation). Honorable mention awards were given to Owen McAuley (Cheney, Washington), Dennis Smith (Medical Lake, Washington), and Gregg Schlanger (Ellensburg, Washington).