Our 2019-2020 Exhibitions
A Grand Tour: Images of Italy from the Permanent Collection of the Jundt Art Museum (CLOSED)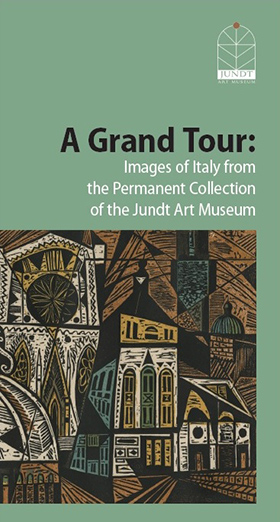 In his book
Italian Hours
, author Henry James often commented on the tourist sites of urban Italy. In 1882, he noted, "The only way to care for Venice as she deserves it is to give her a chance to touch you often—to linger and remain and return." James and other late-nineteenth–century Americans were continuing the British tradition of the Grand Tour in Italy, centered on its most important cultural cities and historic sites. This exhibition functions as a visual travelogue of the Italian peninsula using works of art from the collection of the Jundt Art Museum at Gonzaga University.
Both the exhibition and an accompanying book begin with sixteenth-, seventeenth-, and eighteenth-century European prints, byproducts of artists' visits mostly to the urban centers of Rome and Florence, and conclude with twenty-first-century images. Significant portions of the objects in this exhibition result from the Bolker Collection and from the Fredrick and Genevieve Schlatter Endowed Print Fund. A Grand Tour utilizes the Jundt Art Museum's collection to present artistic imagery of the canals of Venice, the Renaissance architecture of Florence, and the classical remains of Rome, but also sites in Milan, Pisa, Assisi, Naples, and Palermo as well as other cities and towns. We hope that this selection of 76 images of Italy will give pleasure as one introduction to a wide-ranging and astonishing topic and as an opportunity, as James writes, "to linger and remain and return."
Watch a Virtual Gallery Walk Through of A Grand Tour
From the Collection on the 100th Anniversary of the 19th Amendment: Prints by Women (CLOSED)
The year 2020 marks the 100th anniversary of the formal ratification by the states of the 19th Amendment to the US Constitution, guaranteeing and protecting women's right to vote. This historic centennial offers an unparalleled opportunity to commemorate a milestone of democracy and to explore its relevance to the issues of equal rights today. Gonzaga University is embracing the opportunity to honor this milestone, explore relevant issues, and enliven the tenets of Gonzaga's mission for social justice and care for the whole person. The 19th: For Her, For All is Gonzaga's Committee to recognize the centennial. The Jundt Art Museum celebrates the 100th anniversary of the 19th Amendment with this special exhibition, Prints by Women, featuring 20 images created by American female artists from each decade since 1920. The display includes prints created by several internationally-known artists such as Dorothy Dehner, Corita Kent, Alice Neel, Alison Saar, and Cindy Sherman.
Makoto Fujimura: Silence – Mysterion (CLOSED)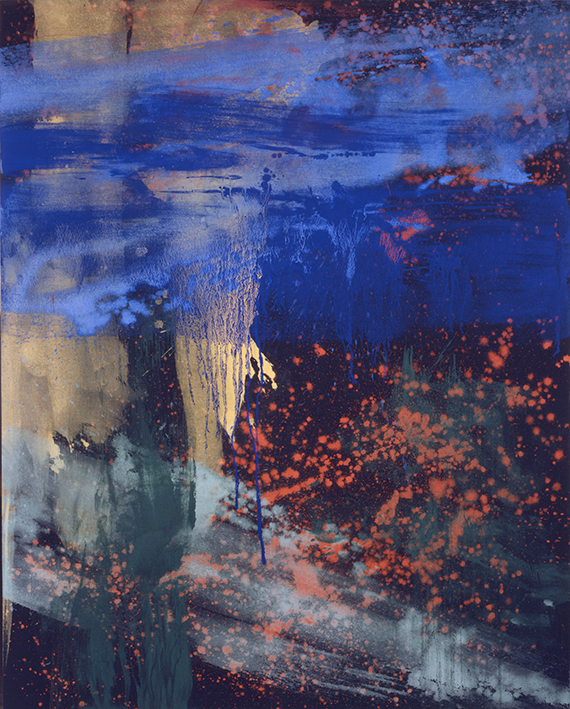 Charis-Kairos (The Tears of Christ)
A solo exhibition of recent works by renowned international artist, Makoto Fujimura. Large-scale paintings from his Silence & Beauty Series, and the Four Holy Gospels frontispieces will be on display. The art, deeply grounded in Fujimura's faith, explores our common experience with suffering and trauma, healing and beauty. Fujimura's work combines traditional Japanese materials and techniques with modern abstraction, resulting in layered, prismatic paintings that can only be fully appreciated in person.
From the Collection:Ethnicity and Identity as Themes in Art (CLOSED)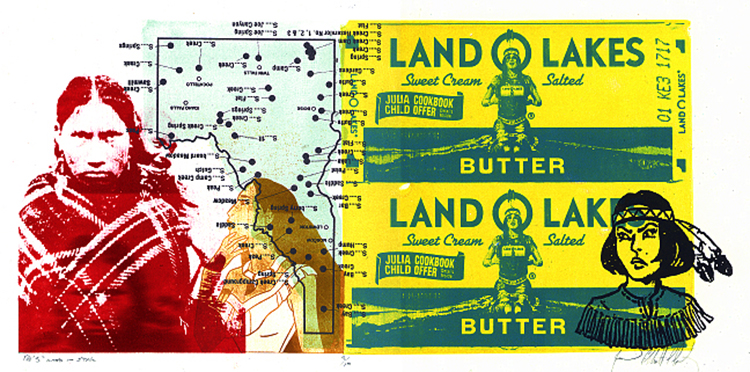 Jason Elliot Clark
(American, b 1967)
The "S" Word in Idaho,
2001,
Protoplate lithograph and relief on paper.
In conjunction with Gonzaga University hosting a conference in Fall 2019 organized by the Ethnicity, Race, and Indigenous Peoples section of the Latin American Studies Association (ERIP-LASA), the Jundt Art Museum has selected works from its permanent collection centered on the themes of ethnicity and identity. In these images and objects, artists convey information about themselves, their respective personalities, their experiences, and their worldviews. Several of the artists make use of self-portraiture as a traditional vehicle for expressing a sense of identity. This Arcade Gallery display also intentionally features a number of works in the museum's collection by regional, indigenous artists. Art as self-expression becomes a meeting site where an artist shares personality and meaning with the viewer. Meanwhile, other artists use image making as a way to communicate information about our collective understandings of race, ethnicity, and identity.
---
Our Past Exhibitions Included