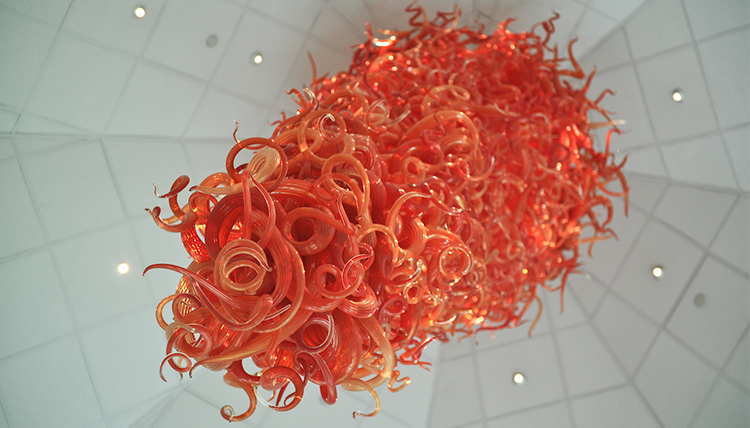 Facts about the Gonzaga Red Chandelier
World-renowned glass artist Dale Chihuly designed the chandelier which permanently occupies the interior apex of the Chancellor's Room. This monumental work is a gift of Jim and Joann Jundt of Wayzata, Minnesota and Duff and Dorothy Kennedy of Seattle. Duff Kennedy and Jim Jundt are former chairs of the Gonzaga University Board of Trustees. Jim Jundt is a graduate of Gonzaga University. The Jundts provided the lead gift for funding the construction of the Jundt Art Center and Museum.
Delivery
Completed in October 1995, the chandelier was transported to the Museum in three separate units: the aluminum grid armature; the red neon tubing, which was molded to fit inside the armature, and the blown glass forms which were later wired to the grid.
Installation
The ceiling was reinforced to accommodate the chandelier, which weighs between 1,500 to 2,000 pounds. The specially tempered connecting cables are capable of supporting additional weight.
A five-man installation crew from Chihuly Studio installed the chandelier. Once the ceiling had been reinforced, and the floor adequately protected, the installation took roughly two and one-half days. Three scissor lifts were used to hoist men and materials. The glass forms were wired individually to the armature, from bottom to top, to create an overlapping effect. To observers standing below, each aspect of the installation seemed to be part of a breathtaking aerial performance.Breakage is not uncommon during the installation process. As the work neared completion, several of the corkscrew ends were sheared off by a moving lift and had to be replaced.
The Glass
The glass shapes (of which there are approximately 800) were blown at Chihuly Studio, located on Seattle's Lake Union. Each glass piece was placed briefly in an "optic" mold, to impress ridges which the hot material "remembers." (The ridges appear in the glass when it cools well after the mold has been removed.) Gold leaf applied to the hot glass adds a variation in color and a hint of sparkle.
The Chandelier at Night
The appearance of the chandelier begins to change markedly as the day darkens. As early as three o'clock in the afternoon from late November through February, the ceiling assumes a red glow, and four distinct shadows of the chandelier appear on the floor. (Visitors have described the shadows as resembling silhouettes of the goddess Medusa's snake hairdo.)
Cleaning the Chandelier
The museum hired art conservators from Seattle to clean, over two days in August 2015, the chandelier using a scissors lift, glass cleaner, and large anti-static dusters.