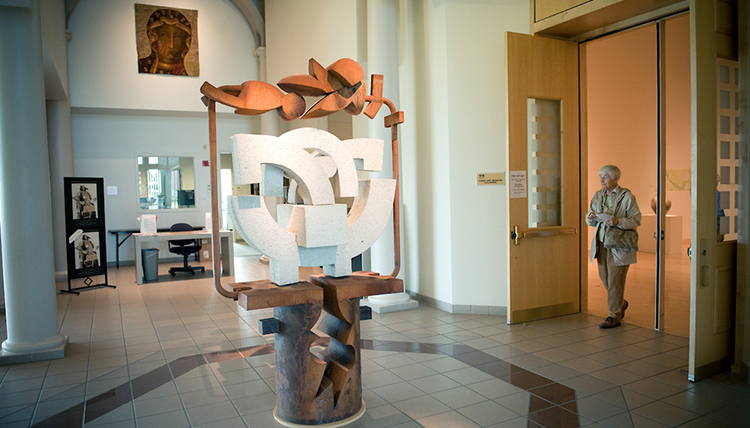 The Jundt Art Museum includes the Jundt Galleries, a 2,800 square-foot gallery that can be divided into several exhibition spaces; the Arcade Gallery, a 1,288 square-foot lobby for exhibitions, and the Chancellor's Room, a 1,450 square-foot exhibition lounge. The Museum also includes the Print Study Room for Gonzaga's print collection.
The Museum provides space for traveling exhibitions and houses Gonzaga University's growing art collection. The collection includes prints from the Bolker, Baruch, and Jacobs Collections, gifts of Norman and Esther Bolker, Anne Baruch, and Jack and Kitty Jacobs, respectively; major pieces of glass art by Dale Chihuly, gifts of Jim and Joann Jundt and Duff and Dorothy Kennedy; bronze sculptures by Auguste Rodin, gifts of the Iris and B. Gerald Cantor Foundation and Collections; works on paper purchased thanks to support from the Sahlin Foundation and the Fredrick & Genevieve Schlatter Print Fund, and paintings, ceramics, photographs and tapestries. The collection pieces are periodically rotated from the storage vaults to the exhibition areas.
Interested in volunteering as a docent? The Jundt Art Museum at Gonzaga University is seeking volunteers with experience in the visual arts.