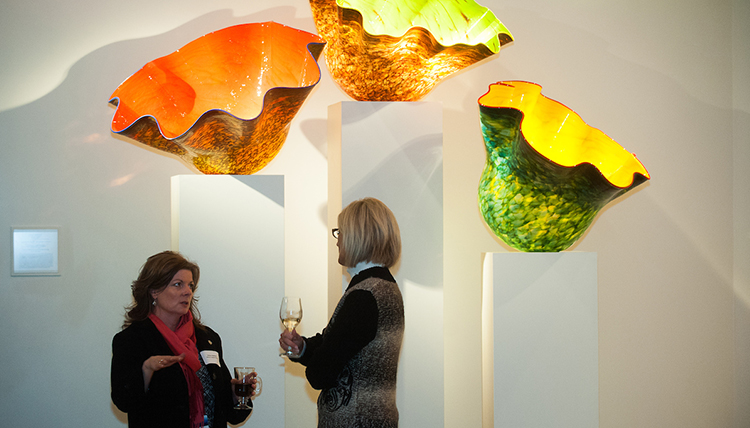 Overview
The Jundt Art Museum is available for a variety of events. Download the Facility Usage Request Instructions for complete information.
The Basics
The Jundt Art Museum will not schedule any event if the requested date is less than four weeks away.
One or two people from the group renting the space must be on hand from set-up through clean-up.
We do not allow: Helium balloons, champagne, Sterno, open flame of any kind, red wine, weddings, wedding receptions, dances, dinners for more than 40 people. Any additional furniture will reduce the number of guests.
Fees
Rental fees are due when you turn in your signed rental contract and are non-refundable. Security Officer wages will be billed after the event.
Receptions for up to 95 people for two hours: $200
Dinners for up to 40 people for two hours: $500
Fees will be pro-rated for longer events.
The rental fee is waived if the organization responsible for the event is from within Gonzaga University. If a Gonzaga university employee or department wishes to sponsor an event, there is a 25% discount.
Organizations outside the Gonzaga community must provide insurance coverage for their event. There is a $125 one-time, non-refundable fee to process liability insurance.
Fees which cannot be waived or discounted:
Campus Security Officer - $25/hour, with a minimum of $100
Use of the Jundt Galleries during your event - $50 (this option is not always available)
Even though you've paid your rental fee or are members of the Gonzaga community, you are still visitors to the museum. Please do not move, remove, add, open, close, turn on, or turn off anything without asking museum staff first.
Furniture
The museum will provide tables and chairs for your event and will set them up according to the design you and the Program Coordinator decide on during you meeting. No furniture is allowed in the Arcade Gallery or the Jundt Galleries.
Brochures, Flyers, and Invitations
Any publication used to announce or advertise your event must be approved by the museum Director or the Program Coordinator.
Alcohol Policy
Alcohol cannot be served if your event is not restricted by invitation or if the museum is open to the public. If alcohol is served, you must have a designated Sodexo bartender.
Catering and Caterers
Sodexo Catering (509) 313-6902 is the only caterer allowed in the Jundt Art Museum. You must hire Sodexo personnel to oversee your event. That fee is $20/hour per server. For most events, we ask that you request paper service. If you believe your event requires china service, you must get permission from the Program Coordinator.
Additional Spaces and Items
Any use of the Art Department hallways (some caterers use this space for staging food) needs to be cleared the Gonzaga Art Department by phone at (509) 313-6686. The lecture hall (Jundt 110) is scheduled through GUEST Services by calling (509) 313-6857.
Auxiliary Items
Microphones, speaker systems, music (either live or electronic), and so on, must be pre-approved by the Program Coordinator.