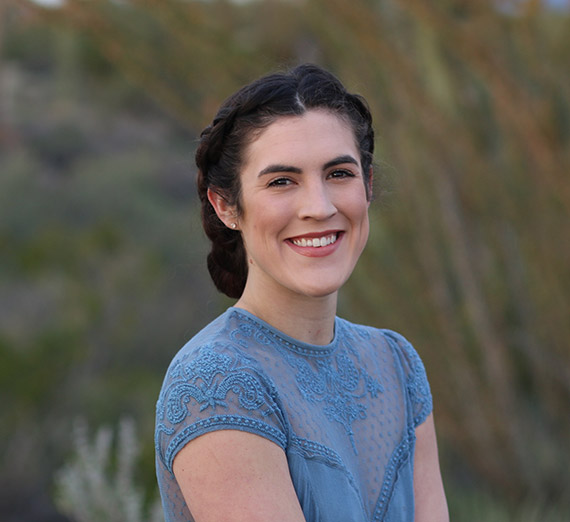 2019 Award: William & Elizabeth Carsrud Senior Mathematics Award
Major: Mathematics (B.S.)
Hometown: Scottsdale, AZ
Extracurricular activities: Competitive Rock Climbing, Drawing, Hiking
About the award
The Carsrud award is given to a graduating senior mathematics major. The recipient of the Carsrud award should be an outstanding mathematics student, and in years when no such student exists, the award is not conferred. Members of the department nominate students for this award and the winner is chosen by the departmental awards committee.
This year's recipient of the Carsrud award is Hannah Tolson, who is an honors student and mathematics major on the pre-med track. Despite this demanding course load, Hannah has maintained an impressive 3.88 GPA and has been on the President's List every semester for her stellar grades. Additionally, Hannah has worked on several research projects in both mathematics and medicine. Last summer, Hannah designed and worked with me on a research project identifying the algebraic structure of DNA point mutations. In addition to her academics, Hannah is a national champion in collegiate rock climbing and founded the Gonzaga climbing club. Next year, Hannah will be applying for medical school and participating in ALS clinical research. She also hopes to learn Spanish through travel to Central and South America and plans to spend some time watching Game of Thrones!
More about Hannah
Future Plans:
After I graduate college, I plan to take a gap year and then attend medical school. I look forward to working as a healthcare professional, and I am most interested in procedural medical disciplines. In the meantime, I will be working on research, training to hike the Grand Canyon rim to rim, and learning Spanish!
How has your major contributed to your professional or personal development?
Math has provided me the skills to be a thoughtful, creative, and passionate thinker. The problem-solving skills that I have learned through studying mathematics will aid me as I approach a career in medicine, and I look forward to using mathematic tools in situations relating to the human body. More than anything, I think that math has taught me how to think critically, reason carefully, and review my work meticulously. I am thrilled to have pursued a degree that has fundamentally impacted who I am as a person and a member of my community.
What has been your proudest or most significant accomplishment during your Gonzaga career?
In my sophomore year of college, I won the Collegiate Climbing National Championship. This moment was both a dream come true and a reminder that athletic and academic goals do not need to be mutually exclusive. Success athletically has instilled in me confidence that I can also succeed academically, whether it be as an undergrad or a medical student. I will be forever grateful to Gonzaga for provided me the resources, the mentors, and the support to pursue my goals, regardless of the form that they take.