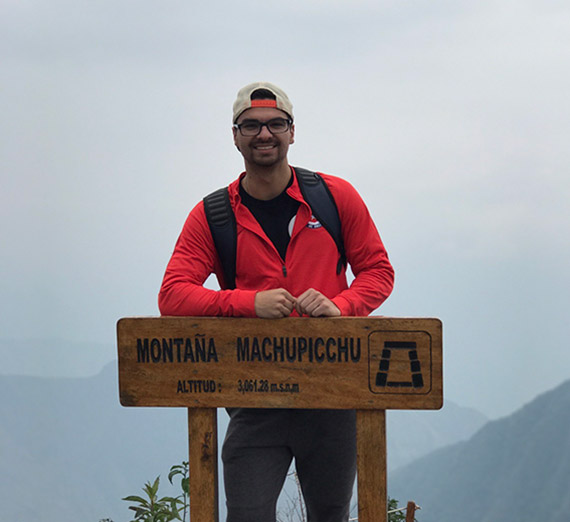 2019 Awards: Global Scholar Award
& Department of Modern Languages Award in Recognition of Exemplary Academic Performance in Spanish
Majors: International Relations and Spanish
Minor: Political Science
Hometown: Missoula, MT
Extracurricular activities: Spanish Tutor, Ark Explorers volunteer, decoloniality researcher, intramural sports
About the awards
Global Scholar Award
Nick was selected to receive this award because of his continuing interest and on-going participation in working, studying, and participating in actions where politics, the environment, and the international intersect. He has spent time in Chile where he was able to put his Spanish fluency to use. It should be noted that Nicholas is also an accomplished scholar in Spanish and is double majoring. Locally, he has worked with World Relief Spokane where he assisted in resettling refugees.
Over the course of his time at Gonzaga, Nicholas has consistently been recognized for his academic excellence, appearing on the Dean's and President's list on numerous occasions. His work in the International Studies capstone this semester has been very impressive. His ability to distill pertinent facts, make connections, and integrate empirical evidences is noteworthy. His insightful comments and thoughtful reading were exemplary.
Department of Modern Languages Award in Recognition of Exemplary Academic Performance in Spanish
We are happy and honored to present this year's Excellence in Spanish Award to Nicholas Simmons, an outstanding student who has demonstrated an impressive level of academic distinction. Nick was selected to receive this award because of his high GPA; his work as a tutor for Modern Languages; his dedication to Spanish both in and outside the classroom, having visited and/or studied in over 14 Latin American countries; and his research about decolonization and indigenous resistance in Latin America. Nick's curious spirit and openness to other cultures and value systems is inspiring to all your professors. We are excited for your future in community organizing and working for social justice across the Americas. We know your passionate and radical sensibilities will make the world a better place. ¡Enhorabuena, Nick!
More about Nicholas
Future Plans:
In the immediate future I would like to get involved with labor organizing through the SEIU organization to aid non-union workers in joining a union. After some time in labor organizing, I would like to attend graduate school to receive a master's and potential Ph.D. in a subject relating Latin American Studies and Human Rights.
How has your major contributed to your professional or personal development?
My courses in International Studies and Spanish have greatly influenced my worldview, which has led me to pursue a career in social justice and making the world a better place for everyone rather than the small minority that reaps the majority of Earth's resources and benefits. My courses have given me an intensive view into the history of injustices in Latin America perpetuated by the United States and corporate interests and pushed me towards fighting for a more egalitarian and just world.
What has been your proudest or most significant accomplishment during your Gonzaga career?
My most significant accomplishment during my Gonzaga career has certainty been conducting research on the theory of decoloniality and how select Latin American indigenous groups use the theory in their organizational practices. The research gave me an amazing opportunity to use my Spanish in real-world situations by conducting personal interviews with indigenous leaders across Latin America.