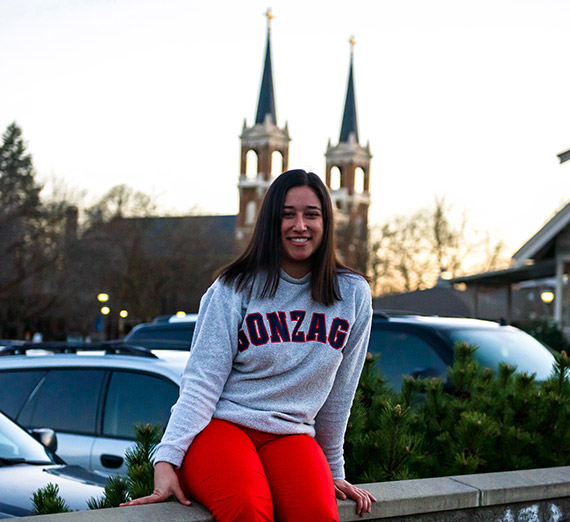 2019 Award: Fr. Fredric B. Schlatter, S.J. Classics Book Award
Major: Classical Civilizations
Minors: English and Philosophy
Hometown: Henderson, NV
Extracurricular activities: Student Advisory Board to the President, Eta Sigma Phi Treasurer, RA for Honors LLC
About the award
The Classics Department is proud to present the 2019 Fr. Fredric Schlatter, S.J., Book Award to Taylor Tyrell. Our award is named in honor of the esteemed Jesuit who kept the study of the ancient world alive at Gonzaga for over thirty years. In addition to his achievements in scholarship and teaching, Fr. Schlatter built a research-level Classics collection in Foley Library. It is for this reason that our award is a book, and the recipient a graduating senior with genuine passion for the Classics, a mastery of the ancient languages, and a high level of academic integrity and accomplishment.

Like most of our majors, Taylor came late to Classics, but more than made up for the delay. Like the summer she crammed a year of Latin into three weeks so she'd be ready to study abroad in Rome. A place, by the way, Study Abroad had always pushed Classics students away from in favor of Florence, until Taylor opened that door. Other students have followed. Then, as she started to think about grad school Taylor decided she wanted to see what the language classroom looked like from the instructor's side. And so the Classics Department's first internship was created!

Taylor is a phenomenal student and an amazing person. But, as a result of her initiative and drive she is also leaving our department better than it was when she arrived. I couldn't be more proud of all that she's achieved or more grateful to have had her as part of our program.
More about Taylor
Future Plans:
I plan to pursue my master's and Ph.D. in Classics with hopes of becoming a professor one day.
How has your major contributed to your professional or personal development?
I started at Gonzaga as a human physiology major on the Pre-Med track. Once I realized I didn't want to stay in that field, I added a classics major, mostly thinking it would be fun and compliment my English major. As I got to know each of the classics professors and experienced their desire to help their students accomplish anything, and as I got deeper into my classes, I began to realize that I could see myself doing the same thing later down the road. If it weren't for my major, I truly don't know what my plans after graduation and for a career would be, and I can't imagine being as passionate about anything else as I am for classics.
What has been your proudest or most significant accomplishment during your Gonzaga career?
Completing my senior honor's thesis has been my proudest accomplishment because I feel that it truly is the culmination of my education at Gonzaga. Not only is it work that I am proud of, but I also feel that it is work that has something important to say and contribute to my field.