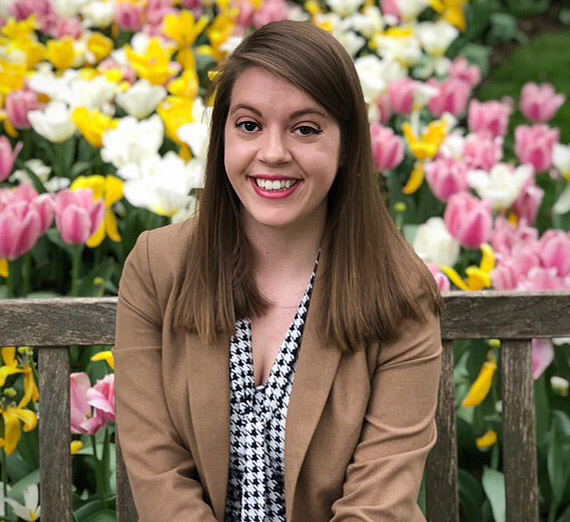 2019 Award: Anthony T. Wadden & Michael B. Herzog Scholarship
Majors: English Literature and International Studies, International Relations Concentration
Minor: Political Science
Hometown: Castle Pines, CO
Extracurricular activities:Section editor and staff writer, The Gonzaga Bulletin; Ignatian Family Teach-In for Justice delegate; Southern Poverty Law Center on-campus Treasurer; Alpha Sigma Nu Jesuit Honor Society; Sigma Tau Delta English Honor Society; Rower with the New College Boat Club (University of Oxford); New College Music Society (University of Oxford); Gonzaga Mock Trial
About the award
In honor of English Department Emeritus Faculty members Dr. Anthony Wadden and Dr. Michael Herzog, Gonzaga University English Alum Chad Bogar established a scholarship fund to support outstanding English majors in their senior years. Each year, the Wadden-Herzog scholarship is awarded to one or two juniors who have exhibited leadership, initiative, and exceptional academic ability. This year, two Wadden-Herzog Scholarships are awarded to Emily Klein and Sarah Kersey.

Emily Klein is an aspiring academic who already has presented her scholarly work both on campus through the Gender and Pop Culture Speakers Series and at the national Popular Culture Association Conference in Baltimore, Maryland. She has a broad range of interests and abilities that have led her to write and edit for the Gonzaga Bulletin, to work for social justice through the Ignatian Family Teach-In for Justice and the Southern Poverty Law Center on Campus, and to Row for the New College Boat Club while studying abroad at Oxford.
More about Emily
Future Plans:
I plan to attend graduate school in the hope of teaching and doing research in the field of English literature.
How has your major contributed to your professional or personal development?
Being an English major at Gonzaga has enriched my personal and professional life because it expanded my understanding of what it means to study English and exposed me to works and perspectives that changed the way I think about the world. In classes in Spokane, London, and Oxford, I've had the opportunity to study everything from novels and plays to TV shows and cityscapes as texts. The idea that everything we encounter can be "read" and interpreted encouraged me to develop a curious and critical outlook about the things I encounter in and outside of a classroom. Critical Theory exposed me to schools of criticism that now color the ways I think about the world.
My English degree has also increased my appreciation of literature as one of the greatest tools we have for empathy; it offers so many perspectives and experiences different from what we might encounter in our own lives. Every English professor I've had has engaged in incredible conversations about which voices have been considered "literary" in the past and which voices deserve more representation in the texts we study and celebrate.
My professional development has been fostered by the amazing mentors and role models I've found in the English Department. I would never have chosen a literature concentration, presented my work in public, or thought I could make it in grad school without them.
What has been your proudest or most significant accomplishment during your Gonzaga career?
While I'm beyond grateful for all of the opportunities I've had at GU, I'm proudest of the Gender and Pop Culture Series lecture I gave in Spring 2018. The work I presented began as an assignment for Dr. Ciasullo's Critical Theory class and evolved into a critical paper presented first at Gonzaga and eventually in Washington D.C. I'm especially proud of the lecture because the audience was full of friends, coworkers, and members of the English faculty. I really appreciate that I was able to share my work with the Gonzaga community.