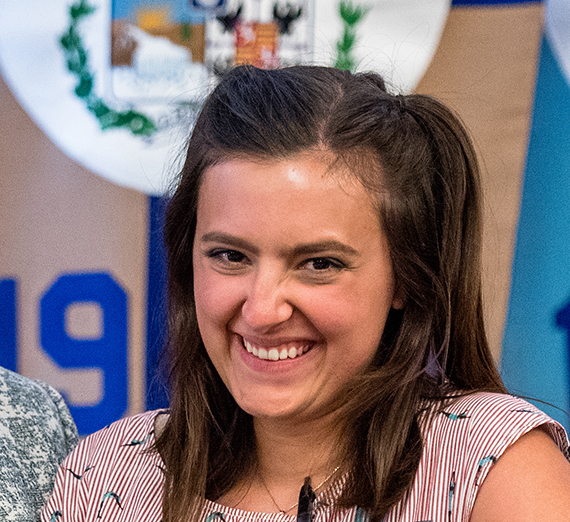 2018 Award: Anthony T. Wadden and Michael B. Herzog Scholarship
Major: English and History
Minor: Philosophy
Hometown: Salt Lake City, UT
Extracurricular activities: Ambassador for the visit office, tour guide and student coordinator; CCE volunteering/CCE Wolff Fellowship; Ignatian Family Teach In 2018-19; Honors program; Alpha Sigma Nu co-President
About the award
Maddy Schreiter is an Honors student with a double major in English and History, a minor in Philosophy, and who spent Fall of 2017 studying at Queen Mary University in London. As this already impressive litany suggests, she has an unquenchable intellectual curiosity and zest for experience, knowledge, and life. When Maddy was a freshman, Dr. Linda Tredennick described her as "a real reader—one of the highest compliments I can bestow!" In addition to being a rigorous and impressive scholar and writer, she is also simply a delightful human being. She balances her academic seriousness with a personality that one can only describe as bubbly. She laughs easily, cares deeply, and is a natural leader. She is also deeply compassionate, as is evidenced by her commitment to service to both the Gonzaga and Spokane communities.
More about Madison
Professional goals:
I have been accepted early into the Notre Dame Ace Teaching Fellows program where I will teach for two years while also taking courses for a master's degree in education. My senior year I'll work for the Ace program as an ambassador helping seniors with their applications to the program. This will allow me to pursue my dream of being a high school history and English teacher, maybe even go into public policy for education later on, as well.
How did you come to declare an English major?
I actually would never have become an English major if I did not have Dr. Tredennick my freshman year. I've always been a lifelong lover of reading, but I was never confident about my writing until Dr. T's class. She encouraged my thoughts and helped guide me to be a better writer while also showing me that my love for reading makes being an English major an obvious choice!
How has your study of English contributed to your academic and personal development?
At Gonzaga I think that my English classes have been the classes that have truly pushed me to change and open my perspective while at Gonzaga. They all have been interdisciplinary and lived up to the Jesuit mission by helping me explore not just literature, but social justice issues, and have helped me understand why our mature commitment to human dignity in all aspects of our lives in necessary. My English classes have given me a much deeper capability for empathy.
I also entered Gonzaga an average writer at best and I'm still learning how to be a better one, but all English classes have all pushed me to become a more original thinker and writer. I also now have really great critical writing skills after reading and analyzing dozens of texts each semester.