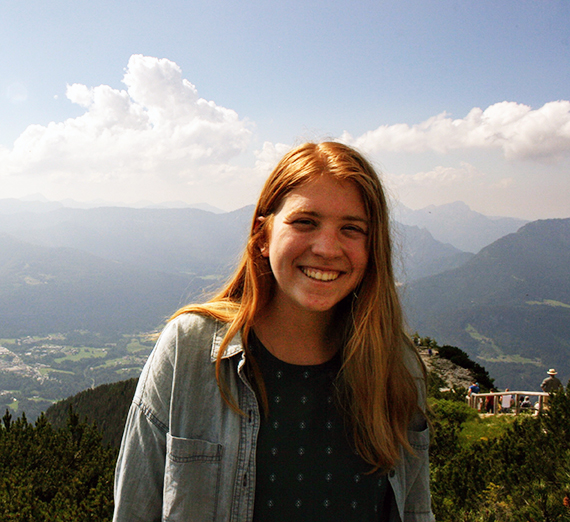 2018 Award: Award: Flannery Award for Excellence in Religious Studies
Major: Religious Studies, Philosophy
Hometown: Pasadena, CA
Extracurricular activities: Student Minister for Coughlin, GUTS (Gonzaga University Theatre Sports) member, Mission:Possible Chicago Leader
About the award
Every year the Religious Studies Department honors one graduating senior with the Flannery Award for Excellence in Religious Studies. The award is part of the endowed Chair of the late Maud and Milo Flannery of Spokane, which supports the critical and significant work in Religious Studies and Theology here at Gonzaga University. The Flannery Award this year goes to Allison Clapp.
Allison is, in a word, fabulous. She's an inquisitive, reflective, and critical thinker. Her thesis on sexual ethics, the Catholic Church, and desire is insightful and incredibly relevant. Her thesis revealed a great deal of wisdom about human love and relationships, combining theological insight with practical activity. She's also everywhere on campus; she can be seen supporting her peers in student ministry, coordinating with Mission:Possible as a student leader, eliciting side-splitting laughter with the improv comedy group on campus—she's a Zag through and through and bleeds red, blue, and cura personalis. Allison is incredibly talented at bringing together ministry, ethical awareness, and social problems and doing so with an approach that is both practical and mystical and so inspiring to watch.
More About Allison
Future Plans:
I plan to work as a campus minster at the high school or college level and to eventually further my studies in Theology.
How has your major contributed to your professional or personal development?
My Religious Studies major has helped to form both the intellectual and spiritual sides of my faith. Professors in this department have pushed me to greater understanding by being constructive critics, supportive guides, and models of faith in action. Studying religion and theology has solidified my interest in a career centered around spirituality and focused on ministry.
What has been your proudest or most significant accomplishment during your Gonzaga career?
I am most proud of my efforts working with the students in Coughlin. I am so honored to have been a part of moments of spiritual struggle and growth on this campus. This experience allowed the things I studies in Religion and Philosophy classes to become concrete. This year of ministry left me deeply convinced of the sacred power that lies within simple listening, openness, and authenticity.