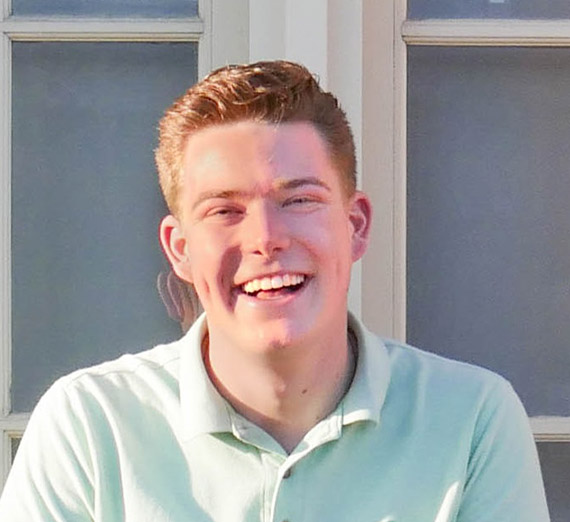 2019 Award: Department of Music Gordon Merwin Scholarship Award
Major: Music Performance in Voice and Organ
Hometown: Albany, OR
Extracurricular activities: Substitute organist at St. Al's and The Cathedral of Our Lady of Lourdes, Cantor at Mary Queen Parish, Grade school math tutor through GU Math Department.
About the award
The Music Department Gordon Merwin Scholarship was established by Jo Merwin to honor the memory of her husband, Gordon, who was a member of the Gonzaga Glee Club and Gonzaga Vocal Quartet from 1935 – 1939. This scholarship recognizes students who exemplify musical excellence, academic achievement, and a commitment to the Music Department's mission at Gonzaga University and throughout the broader Northwest community. Students exemplify this mission through leadership and excellence in musical performance, creation, advocacy, and innovation.
Andrew Kelley is a senior from Albany, Oregon, pursuing a music major with dual performance concentrations in voice and organ. He is a thoughtful and sensitive artist, an eloquent interpreter of song and poetry, and a highly respected leader and mentor among his peers. In Gonzaga's Concert Choir, he serves as bass section leader and hosts prospective students as a choral ambassador. As a Morris Undergraduate Research Fellow last summer, Andrew explored the role of music in the wake of disaster, studying music's role in mourning and understanding the tragedy of 9/11.

This spring, Andrew performed as one of five student soloists for the grand opening of the Myrtle Woldson Performing Arts Center. He has represented Gonzaga in professional conference performances and international tours, two years ago to Zambia and Zimbabwe, and will be traveling this summer to Florence and Castiglione delle Stiviere, the birthplace of our university's namesake, Luigi Gonzaga. After this intercultural exchange tour, he will complete a four-week opera residency in the Czech Republic with Prague Summer Nights: Young Artists Music Festival.

Beyond these accomplishments, Andrew exemplifies the role that artists serve in society: when he sings, time stops for an audience; when he asks the "meaning-of-life" questions, it is with an understanding that uncertainty and wonder have a place; and when he speaks, his peers and faculty alike feel his respect, empathy, and wisdom.
More about Andrew
Future Plans:
After graduation, I will remain in Spokane and continue to study voice and organ while preparing and applying for graduate work in vocal and opera studies. I hope that my time in graduate school will bring me closer to a career in music performance and teaching at the college level.
How has your major contributed to your professional or personal development?
My time spent as a Zag music student has greatly contributed to the development of my character. Being a music student demands self-discipline, diligence, emotional investment, and perhaps most importantly, confidence and conviction. My time as a musician has honed these skills and led to a degree of personal growth that is unique to this field of study.
What has been your proudest or most significant accomplishment during your Gonzaga career?
The proudest moment of my Gonzaga career was my decision to switch my major from mechanical engineering to music performance. It was a decision I didn't take lightly, as my head was telling me to stick with engineering while my heart was telling me to become a musician. It took me three semesters to find the resolve to pursue a life in the fine arts, a career path that often has its marketability and value to society called into question. Thanks to the support of my mentors and a stroke of divine intervention, I found the confidence to pursue a childhood dream.