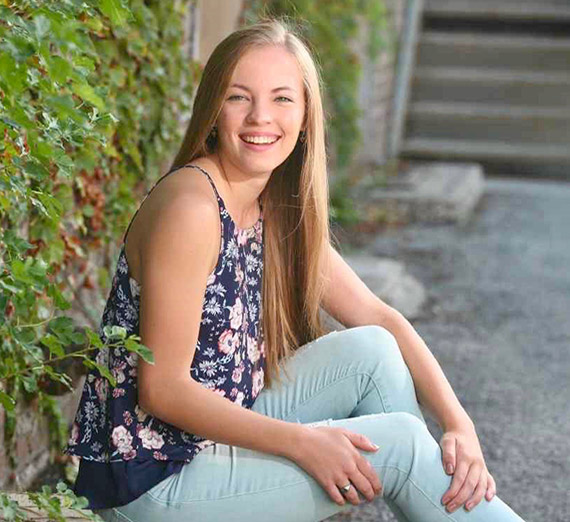 2019 Award: Jefferson Scholarship
Majors: Political Science, International Relations, and Spanish
Hometown: Omaha, NE
Extracurricular activities: Mock Trial and SMILE
About the award
Each year the Political Science Department selects one or more students to receive the Jefferson Scholarship. Recipients must be political science majors in their first year of studies at Gonzaga who have shown an interest in participating in public affairs to advance the common good. Students receive a two-year scholarship, renewable for a third year.
This year's recipient, Kate Elizabeth Kellen of Omaha, Nebraska, writes in her application essay about her love of government and her commitment to giving back to her community, both through involvement in government and through local volunteer work. She has worked on public transit issues as part of the Omaha Mayor's Youth Advisory Commission, creating brochures and a website with bus schedules and proposing the creation of a streetcar, which would better service the needs of low-income residents. During her time at Gonzaga, she has volunteered with Walking School Bus and the SMILE program, in which she mentors Lincoln Heights students. She is also a member of the Mock Trial Team. Kate hopes to one day work for the U.S. Department of State in order to help build strong relationships between the United States and other countries.
More about Kate
Future Plans:
I plan on working for the US Department of State in the future. I hope to be able to help build strong and working relationships between the United States and other countries. I hope to be able to remain involved in the way different forms of government work in order to gain an understanding of how to help make the world functioning, fair, and peaceful for the people.
How has your major contributed to your professional or personal development?
My major has allowed me to recognize so many different aspects to political science and truly see the scope of topics we deal with in government. It has also made me more active in my community because it has helped me develop my stances on many important issues. This major has opened my eyes to issues in the world that I was not aware of before, but it has also acted as a source of hope because it has given me ways to solve the issues facing the international community.
What has been your proudest or most significant accomplishment during your Gonzaga career?
My proudest accomplishment was going to mock trial regionals with my team. We performed very well considering many of us had never participated in mock trial before. We worked as a team and we put forward our best work. We made our school proud, our organization proud, and ourselves proud.