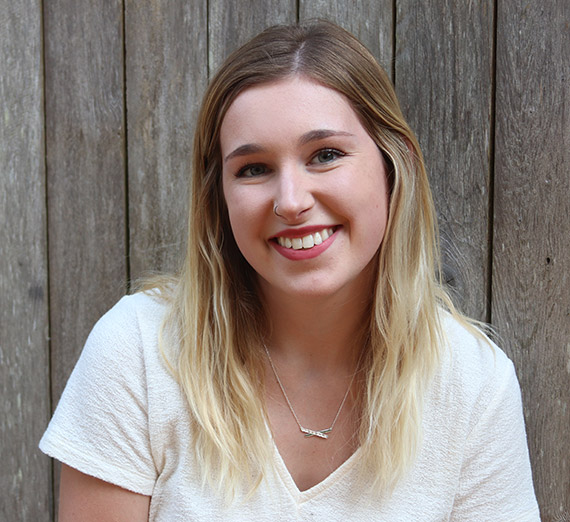 2019 Award: Fr. William T. Costello, S.J. Outstanding Senior English Major Award
Major: English, with a Secondary Education Certification
Hometown: Sammamish, WA
Extracurricular activities: Tutor at the Writing Center, Editor for the Reflection journal, frequent volunteer at Garry Middle School
About the award
Each year the English Department honors an exceptionally accomplished graduating senior, voted on by the full department as the year's outstanding Senior English Major. The award is named in honor of Father William T. Costello, S.J., a longtime faculty member in the department.
This year, the Fr. William T. Costello, S.J. Outstanding Senior English Major Award is given to Molly Wilson, not only for her exemplary intellectual curiosity and dedication to her academic pursuits, but for traits consistently highlighted by those who have taught her: her maturity; her compassion and generosity to her peers; and her ability to persevere, as her advisor says, "with humility and grace." Molly's supervisor in the Writing Center, Dr. John Eliason, notes that she is a compassionate and effective tutor and a leader of the Center's staff. We are especially happy to note that Molly will be putting these skills to good work, as she is graduating with her English major and teaching certification. We are thrilled that she will be bringing her diligence and creative thinking to a new generation of students. Molly's more formal academic work is also top-notch. In her senior project, she developed what her thesis advisor, Dr. Heather Easterling, calls "a provocative reading" of Moll Cutpurse's significance in the city, employing feminist and space-and-place theories in the examination of Early Modern City Comedies. Dr. Easterling refers to Molly as a "model of what we want to see in our majors." In honor of her consistently stellar performance and exemplary citizenship, the English Department is very pleased to extend the Costello Award to Molly Wilson.
More about Molly
Future Plans:
Following graduation, I plan to move back to Western Washington to pursue my teaching career. In the coming school year, I hope to teach middle school English and/or Social Studies.
How has your major contributed to your professional or personal development?
These last four years I have learned more than I ever could have imagined; each class that I have taken in the English Literature major has asked me to question my surroundings and the ways that literature affects those surroundings.
This major has immersed me in diverse literature that examines the human experience. In my Chicana Literature class, my eyes were opened to the experience of Chicana women in post-Cold War America and modern day; in my Working Class Literature course, I was taught the ways in which socioeconomic status can affect children and adults mentally, physically, and emotionally; and in my Teaching of Writing class, I was able to dive into the ways that trauma affects students' learning capabilities. This is a small sample that briefly reflects the power Gonzaga's English courses have had on my education and formation as an individual.
Professionally, I am confident in my content knowledge and I believe that I can thoughtfully educate middle or high school students to critically analyze literature, reflect on its purpose, and discover its deeper meaning. I credit this preparedness to my English major and thank the English Department for their contribution to my education and formation as a future teacher!
What has been your proudest or most significant accomplishment during your Gonzaga career?
The proudest moment of my Gonzaga career has been my student teaching experience at Garry Middle School. With this experience, I have truly been able to apply my Jesuit education to my students. Every day is an accomplishment, and I am so lucky to work with some amazing, intelligent 7th and 8th graders. They make me proud to be a teacher.