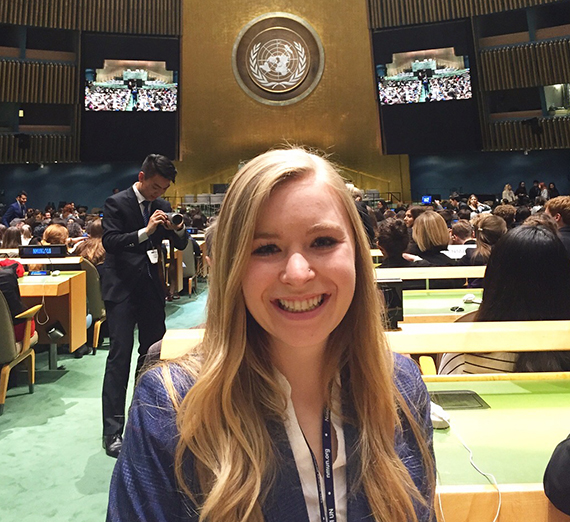 2018 Award: Exemplary Academic Performance in German
Major: International Relations
Minor: German and French
Hometown: Bend, OR
Extracurricular activities: Model United Nations, Ambassadors, CCE Smile mentoring
About the award
The German Program is honored to bestow the Exemplary Academic Performance in German to Abigail Sorlie. Abby has been an active and engaged student in the German program ever since she took her first German class in spring 2015. She had just returned from a one-year high school exchange in Switzerland and diversified the students' language experience in this literature course with her wonderful Swiss accent and exciting stories from her adventures in Lucerne. Abby's interest in the language and German-speaking affairs has expanded far beyond the classroom: In 2015, she participated in a five-week summer immersion program in Graz, Austria, and the following summer, she worked as an intern at a non-profit organization in Germany to assist refugees in finding apartments and work. Abby has been a valuable tutor for the German program and has functioned as an ambassador for programs in Austria. She was one of the founding members of the German Language Club, and she reached out to local elementary schools to promote the German language and culture. During her studies, Abby has successfully helped increase the German program's presence and popularity on campus and has shared her enthusiasm and passion for the German language with many students.
More about Abigail
Future Plans:
Immediately after graduation, I plan to work at a travel agency for students going abroad as exchange students to get experience with the visa process and formal travel planning. Further in the future I hope to work with an international NGO aimed at improving global human rights and the situations for vulnerable populations such as women, children, and refugees. I hope to achieve this through working on peace-building and involving said populations in the peace-building process.
How has your major contributed to your professional or personal development?
My major has contributed to my professional development because of the connections I have made with peers and professors in my field of study who have all shown great interest in my success and have supported me in all of my endeavors. These connections have pushed me to be a better student and scholar and take risks in order to achieve my professional goals.
What has been your proudest or most significant accomplishment during your Gonzaga career?
My proudest accomplishment during my Gonzaga career has been leading a successful Model United Nations team to two conferences at which we were formally recognized for our achievements.