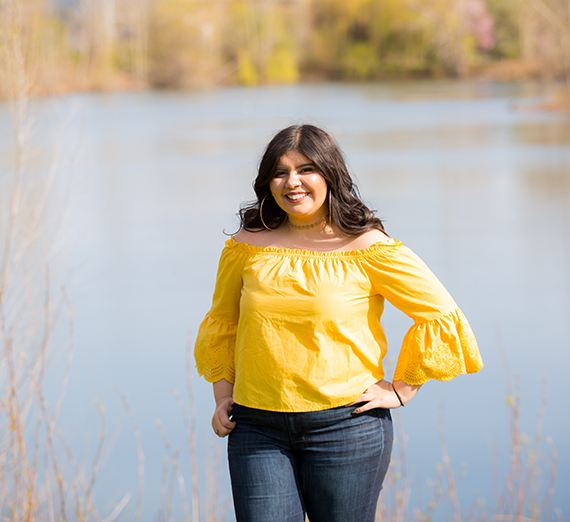 2018 Award: The Women's and Gender Studies Founders' Award for Excellence in Activism
Major: Sociology
Minor: Women's and Gender Studies and Criminal Justice
Hometown: Fresno, CA
Extracurricular activities: Vice President of La Raza Latina, activities member of the Center for Global Engagement, Diversity Monologues, and studying abroad
About the award
The Founders Award is named in honor of the seven women who, in 1991, established Women's and Gender Studies as an academic program at Gonzaga. As a way of acknowledging the relationship between feminist intellectual work and feminist praxis, each year the department gives out two awards: one for achievement in academics and one for achievement in activism.
This year's award for achievement in activism goes to Abigail Altamirano. Sharing the lessons she learned from her activism and connecting those lessons to the subjects we teach in our courses, Abigail invariably enhanced every WGST class of which she was a part. We hope that she will continue to apply the education she claimed to the activist work she will engage in back in her hometown of Madera, California, this summer and in her graduate program at the University of Washington next year.
More about Abigail
Future Plans:
I will be pursuing my master's in Cultural Studies at University of Washington at the Bothell campus. I hope to one day get a Ph.D. and work as Diversity and Inclusion Director within a college campus.
How has your major contributed to your professional or personal development?
My major and minors have contributed to my personal development in that I felt affirmed in my identity and sense of self. They have aided me in finding my voice and helped me feel more comfortable in who I am. Professionally, I feel I have been given the tools to promote change in whatever community I am, while recognizing the injustices many people face. Lastly, I have learned systems of power and the dynamic and culture they create, while also acknowledging my privilege.
What has been your proudest or most significant accomplishment during your Gonzaga career?
Being able to say that I made substantial change at Gonzaga. I have poured my heart into this university by sharing my personal experiences; doing spoken word; starting rallies; running clubs; creating a new minor; and working with students, faculty, and staff for research. I truly never thought I would even do a portion of what I have. Most of all, I am proud I found my voice and passion in social justice.