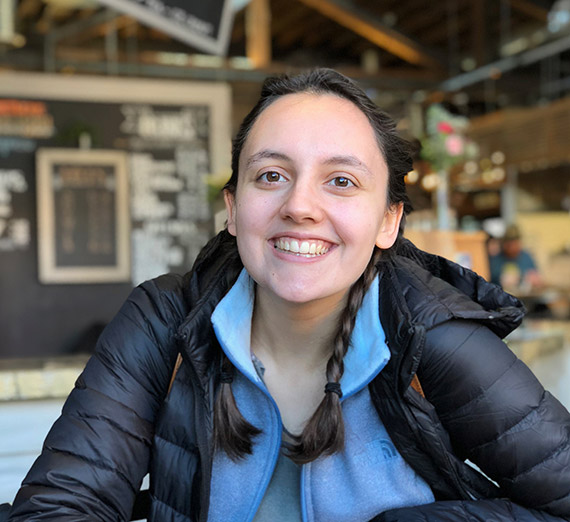 2019 Award: Robert D. Prusch Award for Distinguished Service to the Biology Department
Major: Biology
Hometown: Los Gatos, CA
Extracurricular activities: GSBA, Gonzaga Science Scholars
About the award
Each year the Biology Department gives two awards to honor individuals who demonstrate academic excellence in biology, a commitment to their field as indicated by exceptional research or service, and potential for significant professional achievement.

Our first award is the Robert D. Prusch Award for Distinguished Service to the Biology Department. The award is named in honor of Rob Prusch, who was a long-time professor and chair of the Biology Department. He was the architect and tireless builder of the scholarly community of the department. This year the graduating student who most clearly exhibited exceptional service and impactful community-building is Christina Briones. Christina is a dedicated student in the classroom, and an exceptional teaching assistant in our freshman biology lab. She is the recipient of a Gonzaga Science Scholarship, awarded to select students who wish to promote a diverse and inclusive community of science students. This past year, Christina helped to organize and lead a crew of Gonzaga Science Scholars through the process of becoming an official student club on campus. They wrote a mission statement, bylaws, they have an officer structure, and they can now tap into more options for grants and other fundraising. Through all of this, Christina helped lay the groundwork to make future club members have more power and impact as they work for all science students to feel welcomed into the community of science, included, and cared for.
More about Christina
Future Plans:
I have been selected to be in the Clinical Observation and Medical Transcription Fellowship at Stanford University, where I will be scribing with physicians. After the fellowship, I plan on applying to physician assistant programs in California.
How has your major contributed to your professional or personal development?
My major has taught me to think very critically of the evidence that's placed in front of me. In addition, I have learned how to look at something that's complicated and break it down into ways that make more sense to me. Both of these skills have helped me in the classroom as well various jobs I have had.
What has been your proudest or most significant accomplishment during your Gonzaga career?
I am most proud of the work I did with Gonzaga Science Scholars because we created more structure in the group and started to make a presence on campus. This year we went through the club application process and became a recognized club by GSBA. I'm so proud of the work we've done this year, and I hope they will be able to do more events to make more impact within Hughes.