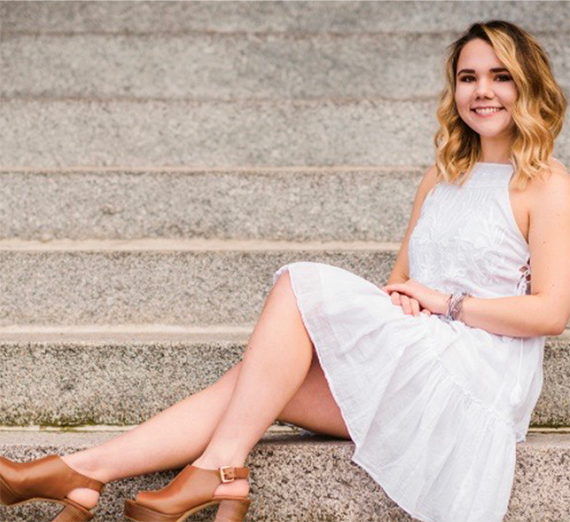 2018 Award: Senior Art Award
Major: Art
Minor: Psychology
Hometown: Olympia, WA
Extracurricular activities: Anything outdoors, including hiking, snowboarding, wakeboarding, and of course painting
About the award
The senior art award recognizes a Gonzaga student whose portfolio of art and participation in the Art senior seminar together demonstrate artistic excellence and significant potential for future accomplishment in the visual arts. This year's award recipient is Lindsey Johnstone, an Art major with a Psychology minor originally from Olympia, WA. Lindsey has been accepted into the Accelerated Master of Arts Teaching program at Seattle Pacific University and will begin her studies in this program in the fall.
Lindsey is an extremely gifted and dedicated painter whose body of work in her senior year has focused on the issue of poverty in the Spokane community. Since last fall she has volunteered at St. Margaret's Family Shelter and at the Women's Hearth in downtown Spokane, where once a week since January she has taught an art class to a group of women. Lindsey's volunteer work inspired her to shed light on poverty through her paintings. Through an outstanding set of paintings, she invites the viewer to observe those in poverty in a more personable perspective and aims to cultivate a compassionate impression within the viewer.
More about Lindsey
Future Plans:
I will be attending Seattle Pacific University in the fall and getting my Master's in Teaching and Art Endorsement. I will be doing a full school year of student teaching along with online coursework. I hope to be a high school art teacher. Eventually, I have a goal of owning my own wine and paint business and teaching painting lessons to the general public.
How has your major contributed to your professional or personal development?
My painting has developed immensely since coming to Gonzaga. I've developed a personal style that I hope to continue with after college. People have started to recognize my talent and have commissioned me for paintings, which is really exciting and something I want to continue doing.
What has been your proudest or most significant accomplishment during your Gonzaga career?
This is my proudest accomplishment because everything I've worked so hard on is being recognized. I've done many community art projects and taught art lessons as a volunteer, while simultaneously working on my own art. I've spent hours planning and painting the past couple of years, and I feel honored to be recognized for all the work I've put in.