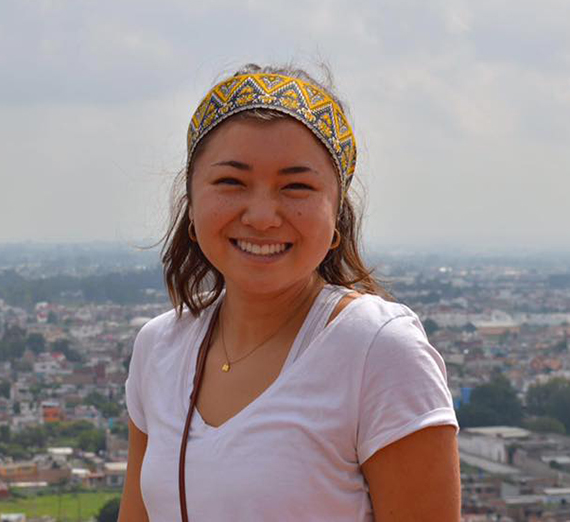 2018 Award: Exemplary Academic Performance in Spanish
Major: Spanish and International Relations
Hometown: Federal Way, WA
Extracurricular activities: Assistant Residence Director, Coughlin Hall; Copy Editor, Gonzaga Bulletin; Spanish Tutor, Department of Modern Languages
About the award
The Spanish Program is honored to give the Exemplary Academic Performance in Spanish to Analee Scott. In order to achieve our deepest respect, Analee has demonstrated outstanding linguistic skills; a very strong sense of purpose in understanding the nuances of Spanish and Latin American literatures and cultures; and a deep commitment to expand her learning process beyond the classroom. Analee is the caliber of student who makes teaching and mentoring so satisfying and rewarding; she is also the kind of person who helps maintain our faith in the importance of liberal education. Analee started her Spanish studies here as an intermediate student; after only one year, she was already taking upper-division content classes. In summer 2016, she attended our summer program in Cuernavaca, where she embraced Mexican culture with an admirable passion and commitment. Since then, Analee has continued her path to excellence inside and outside the classroom, helping our program as a tutor or promoting our study-abroad programs. Analee is planning to become a linguist and has already been accepted to Gonzaga's TESL master's program. We know there are very good things ahead for Analee in her professional career and ask you to join us in celebrating her many achievements.
More about Analee
Future Plans:
In the fall, I will begin Gonzaga's Master's in Teaching ESL and continue to work for Housing and Residence life as a Graduate Residence Director. After the master's program, I hope to gain teaching experience abroad through a funded program like Fulbright or the Critical Language Scholarship. Ultimately, I'd like to return to the US to do education research and be a professor.
How has your major contributed to your professional or personal development?
My Spanish and international relations majors both contributed to the global, nuanced cultural and social worldviews I have applied professionally in my positions within Housing and Residence Life and to my goals of teaching and doing research in the future, as well as to my personal growth. My whole undergraduate career was shaped by these unique perspectives and directed me to the MA/TESL program I am about to begin. Such intercultural engagement has defined my experience with the Jesuit education committed to work in social justice and true solidarity.
What has been your proudest or most significant accomplishment during your Gonzaga career?
Realizing how important my roots are: My mother's immigrant narrative and strength in every battle she fought; my father's expression of (sometimes unconventional) values through his daily lifestyle and choices; and the rich diversity of my hometown of Federal Way—these roots have surfaced in every "success" I've had at GU and set the trajectory of my personal development. I cannot attribute my accomplishments to much more than the incredible people and environments with which God has shaped my life. I am most proud of the humbling process that learning this was.