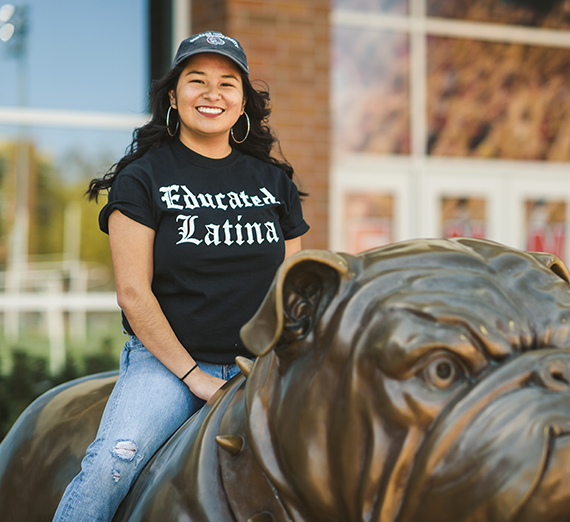 2018 Award: Global Scholar Award
Major: International Relations
Minor: Criminal Justice, Entrepreneurial Leadership
Hometown: Carson City, NV
Extracurricular activities: Hogan Entrepreneurial Leadership Program; Ambassadors; Justice in January Student Leader; Smile mentor; Zambia Gold intern; Zag Volunteer Corps Semester of Service Student Leader; study abroad in Scotland, Turkey, Ghana, and Zambia
About the award
Lydia Lopez embodies Gonzaga's "commitment to the dignity of the human person, social justice, global engagement, intercultural competence, solidarity with the poor and vulnerable, and care for the planet." A first-generation college graduate from Carson City, Nevada, Lydia made the most of every moment of her time at GU. In addition to her major in International Relations, she completed minors in both Entrepreneurial Leadership and Criminal Justice. She studied abroad in Scotland, Turkey, Ghana, and Zambia. She participated in Mission:Possible, ZAG Volunteer Corps, the SMILE after school mentoring program, and Justice in January (twice!). She's demonstrated for Dreamers, marketed Zambian honey, dug for artifacts on the Black Sea coast, and educated social justice activists from Colombia and Burma. She did all of this while maintaining a 3.5 cumulative grade-point average.
Next year, she'll return to her home state to work for the Progressive Leadership Alliance of Nevada while she contemplates whether to go to graduate school or law school. It just may be that she does both.
More about Lydia
Future Plans:
After graduation, I will be working for the Progressive Leadership Alliance of Nevada to learn more about what it means to be an advocate for marginalized and vulnerable communities, as well as understanding care for the planet. During that year, I will be applying to Law and Graduate programs to either pursue a career in academia or in immigration and family law.
How has your major contributed to your professional or personal development?
My major has shown me the responsibility we have as human beings to be aware of and engage with our global community to create positive change in the world. Given the major advances in technology, communication, and travel, the world has become extremely interconnected. Distance is no longer a major factor in my ability to access the other side of the world. I get notifications about news events from all over the world on my phone regularly. Being from an extremely privileged nation and having a lot of power and ability has made me realize that I have an obligation to care for others beyond my own backyard, and that is an ideology I plan to pursue throughout my professional career.
What has been your proudest or most significant accomplishment during your Gonzaga career?
My most significant accomplishment during my Gonzaga career was the growth of my curiosity and independence during my study abroad year. I had the opportunity to grow as a student in the field of academia, studying and learning from people all over the world. I also got to grow as an individual. I was pushed out of my comfort zone and had to become more independent than I ever had to be before. I can now say that I am confident walking down the streets of a new country and having dinner alone—something I would not have been able to say five years ago.