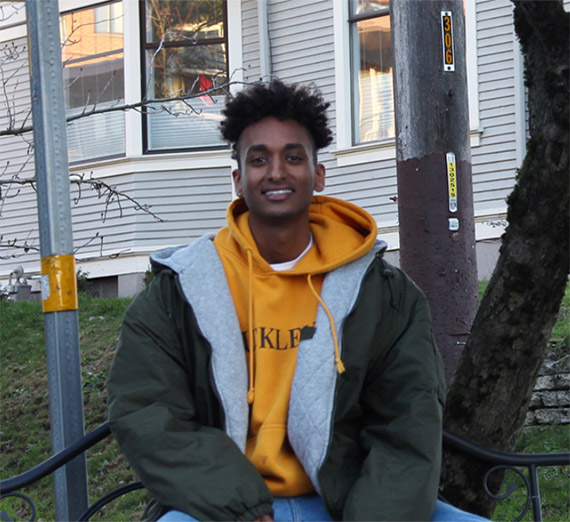 2019 Award: Psychology Department's Excellence in Research Award
Major: Psychology, Research Concentration
Minor: Art
Hometown: Seattle, WA
Extracurricular activities: Black Student Union
About the award
Filmon Abraham is the recipient of psychology's research excellence award. This award is granted to the senior psychology major who completed the best designed and executed and expertly presented piece of research this academic year. The department votes on this award and it comes with a stipend.

Filmon designed his study, "Racial identity, college embeddedness, and psychological well-being of college students," while taking our required lower-division research methods course. He is one of very few students to then seek out the support to execute his design. Filmon's study explored ethnic minority students' perceptions of belongingness, academic self-efficacy, psychological well-being, and intentions to leave the university. He presented his findings as a talk at the Spokane Intercollegiate Research Conference.
More about Filmon
Future Plans:
I will be continuing school and getting my master's at New York University in Interactive Telecommunications. I want to merge my interests in psychology, tech, and art by doing user experience research and design for mobile technology.
How has your major contributed to your professional or personal development?
My psychology major has given me knowledge of human behavior and research practices that have helped me gain context behind why we do what we do. My art major helped to fulfill my creative energy and helped me discover my artistic interests and personal style.
What has been your proudest or most significant accomplishment during your Gonzaga career?
My time abroad in London was my proudest moment during my Gonzaga career. I really needed an experience that helped me find confidence in myself and put me in a new environment that excited me!