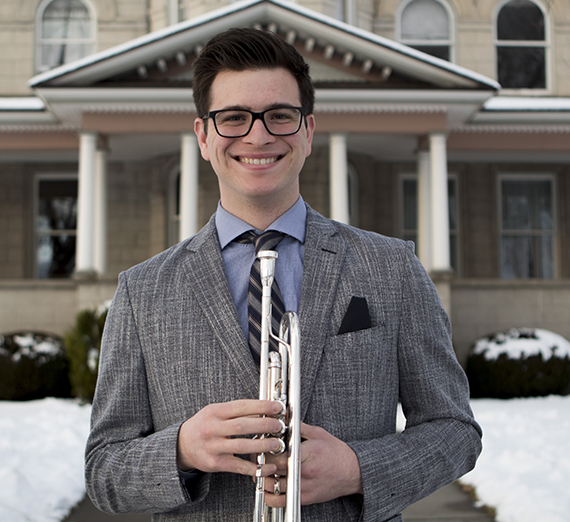 2018 Award: Department of Music Gordon Merwin Scholarship Award
Major: Trumpet Performance and Environmental Studies
Minor: Jazz Performance
Hometown: Napa, CA
Extracurricular activities: Student Conductor of Bulldog Band
About the award
The Music Department Gordon Merwin Scholarship was established by Jo Merwin to honor the memory of her husband, Gordon, who was a member of the Gonzaga Glee Club and Gonzaga Vocal Quartet from 1935-1939. This scholarship recognizes students who exemplify musical excellence, academic achievement, and a commitment to the Music Department's mission at Gonzaga University and throughout the broader Northwest community. Students exemplify this mission through leadership and excellence in musical performance, creation, advocacy, and innovation.
Joe Panchesson is a graduating senior from Napa, California—an insatiable learner, and in my eyes, Mr. Incredible. Above and beyond his required coursework, Joe has studied seven semesters of Applied Piano, five semesters of Jazz Improvisation, and five semesters of Conducting; he has played for seven semesters as lead trumpet in the Jazz Ensemble, two semesters of Jazz Combo, three semesters of Men's Chorus, and was even able to squeeze in a semester of jazz voice. Joe also conducted four pieces on Wind Ensemble concerts, one piece on Jazz Ensemble and Women's Chorus concerts, and directed and conducted the brass band for two semesters. Joe was the student conductor for the Bulldog Band for three years, where he received numerous accolades from faculty, staff, and fans who appreciated his positive, energetic, dance-inspired approach to conducting the band. Joe participated in 24 post-season WCC and NCAA Tournament games on ten different trips to cities all over the US. He was also responsible for conducting Women's NCAA Tournament band trips to Seattle in 2017 and Stanford in 2018. And by the way, Joe did all this while completing a DOUBLE major in Environmental Studies and Trumpet Performance. Mr. Incredible: Joe Panchesson.
More about Joe
Future Plans:
I plan to pursue a graduate degree in Philosophy at Gonzaga University.
How has your major contributed to your professional or personal development?
Music is inherently a personal experience that you share with the world. Your music develops as you develop and vice versa. While music allows me to engage on an internal basis, studying the environment allows me to engage on an external basis. We study the environment and everything that has a relationship with it, including mankind. This allows me to further understand my place in a dynamic system.
In terms of professional development, I have had the fortune to work with some amazing people in these fields. That may be my favorite part.
What has been your proudest or most significant accomplishment during your Gonzaga career?
My proudest moments at GU have been any time I stood in front of an ensemble and conducted. Be it Bulldog Band or Wind Symphony, I find my best expressional self on the podium. Conducting reminds me how far I have come and where I still have to go.