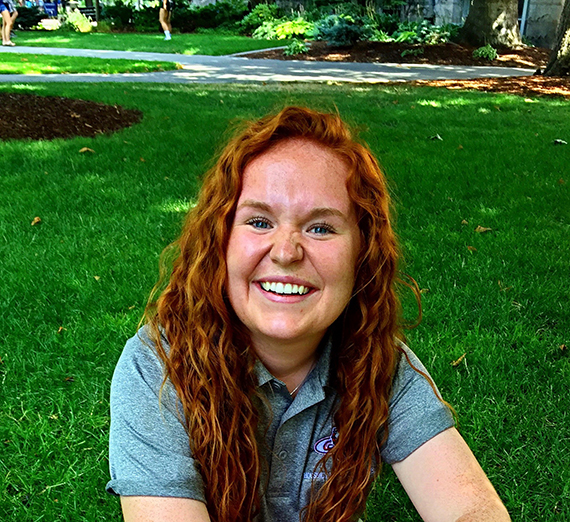 2018 Award: Anthony T. Wadden and Michael B. Herzog Scholarship
Major: English and History
Minor: Italian Studies and Religious Studies
Hometown: Tacoma, WA
Extracurricular activities: Ambassador for the Department of Admissions; Vice President of Alpha Sigma Nu, the National Jesuit Honor Society; Student Assistant for Faith and Justice in the Office of Mission and Ministry; Representative on the Student Advisory Board to the President; former Resident Assistant of Alliance Hall
About the award
Hailey Maher embodies the mission of Jesuit education to strive always to serve others, work for social justice, be in solidarity with the vulnerable and marginalized, and to act with intentionality, self-awareness, and reflection. She is an Honors student with a double major in English and History, and minors in both Italian Studies and Religious Studies. Her academic work is always pursued with an eye towards a great understanding of the forms and expressions of institutional and social inequity, and her work is motivated by a deep need to put her gifts in service to others. She has been described as a "firebrand," a "delight," and "hope for our future." Her intelligence is always combined with deep empathy, a powerful combination for good.
More about Hailey
Professional goals:
After Gonzaga, I hope to pursue a master's degree in Education and fulfill my lifelong dream of teaching English at a Jesuit high school.
How did you come to declare an English major?
In grade school, I loved English, everything about it. I loved writing poems when I should have been learning long division. I loved keeping track of every book I read, making trips to the local library and coming out with a stack so big I could barely see over the top of it. I loved class discussions about Maniac Magee and The Phantom Tollbooth that always turned into conversations about the world around us.
Growing up, this love of literature only expanded, and my English teachers became my greatest role models. So, when I arrived at Gonzaga, declaring an English major felt like the most natural decision in the world. It allows me to read, study, and discuss the things about which I'm most passionate while also taking the first step in following in the footsteps of the phenomenal English teachers and professors I've been so lucky to know.
How has your study of English contributed to your academic and personal development?
Gonzaga has shown me that my academic and personal development are interconnected. A Jesuit education should be a holistic one, and this has been made manifest for me in my English classes. It has been in these classes that I've learned the most about the world but also about myself. I've been encouraged to reflect upon the meaning of my education and to develop a deeper understanding of the role that Gonzaga's mission plays in my life today, as well as my duties to the mission in the future.
The Gonzaga English Department has shown me that literature provides the perfect lens to study life and to grow in solidarity with our fellow human beings, particularly the poor and marginalized. In my English classes, I've been encouraged to pursue and analyze interdisciplinary ideas, challenged to grow emotionally and spiritually, and inspired to reach for more, both inside the classroom and out. I'm so grateful that I've had the opportunity to study English at a place like Gonzaga, and I'm excited to continue to learn and grow over the course of my final year here.