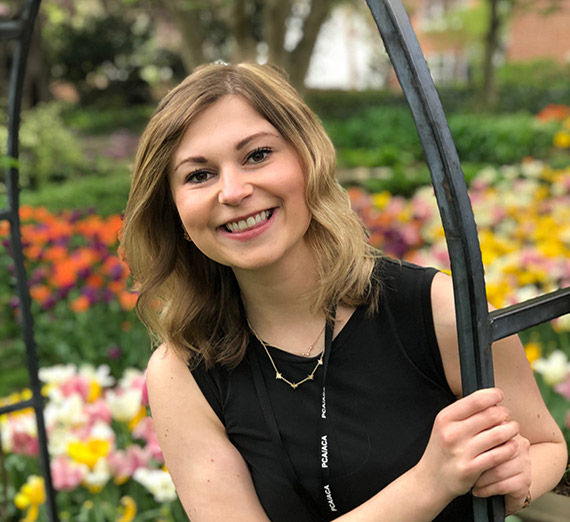 2019 Award: The Women's and Gender Studies Founders' Award for Excellence in Activism
Major: English Literature
Minors: Women's & Gender Studies, Leadership, and Political Science
Hometown: Yakima, WA
Extracurricular activities: Communications Assistant at YWCA Spokane, Student Director/Producer of "The Vagina Monologues," Courageous Conversations Speaker
About the award
The Founders' Awards are named in honor of the seven women who, in 1991, established Women's and Gender Studies as an academic program at Gonzaga. As a way of acknowledging the relationship between feminist intellectual work and feminist praxis, each year the department makes two awards: one for achievement in academics and one for achievement in activism.

This year's award for activism goes to Olivia Moorer. Throughout her four years at Gonzaga, Olivia has been a passionate advocate for gender justice and diversity. Her leadership and activism have taken many forms: she has worked as the Editor-in-Chief of One World, the university's journal on diversity; she has served on the Student Advisory Board for the Institute for Hate Studies; and most recently, through her work at the YWCA, she helped to coordinate efforts for the celebration of International Women's Day. This semester alone, Olivia served as one of the student organizers of the campus visit by Jackson Katz, a major scholar of masculinity, and as a student director and co-producer of The Vagina Monologues in Gonzaga's first on-campus, public performance of the play. For this production, Olivia worked tirelessly recruiting cast members and volunteers, liaising with the YWCA, and performing in one of the monologues herself to a sold-out performance in Magnuson Theatre. Olivia's commitment to using her voice for the greater good of the community has made Gonzaga a better place.
More about Olivia
Future Plans:
I will be attending Loyola University Chicago to earn a master's in English Literature. I hope to become a professor of English Literature and Women's & Gender Studies.
How has your major contributed to your professional or personal development?
I have become a more analytical member of society. I no longer intake media and culture blindly. I don't listen to music that has oppressive messages. Beyond becoming a better writer and analyst for my degree, my degree has deeply enhanced my life. I better understand film, television, novels, and music, which allows me to better enjoy these mediums. Watching films like Us or listing to albums like "To Pimp a Butterfly" are no longer simply to view an exciting story or listen to a good beat. Because of my degree, I can truly analyze and understand the immense symbolism and meaning in these piece of art. I am a more conscious consumer, and in turn can be a better writer and artist, as well.
What has been your proudest or most significant accomplishment during your Gonzaga career?
Direction and producing The Vagina Monologues, after years of the play being banned at Gonzaga. The show was an opportunity to give voice to many identities and stories shut out on this campus, and it raised $2,300 for YWCA Spokane's Safe Shelter during a time when VAWA re-authorization was unstable. It was the best way to end my Gonzaga extracurricular career.