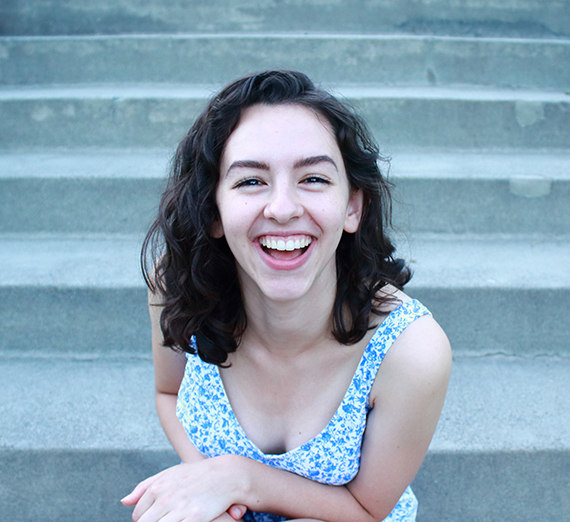 2018 Award: Department of Music Gordon Merwin Scholarship Award
Major: Music Education
Hometown: Kirkland, WA
Extracurricular activities: Gonzaga American Choral Directors Association Student Chapter, Gonzaga Choral Ambassador
About the award
The Music Department Gordon Merwin Scholarship was established by Jo Merwin to honor the memory of her husband, Gordon, who was a member of the Gonzaga Glee Club and Gonzaga Vocal Quartet from 1935-1939. This scholarship recognizes students who exemplify musical excellence, academic achievement, and a commitment to the Music Department's mission at Gonzaga University and throughout the broader Northwest community. Students exemplify this mission through leadership and excellence in musical performance, creation, advocacy, and innovation.
Annie Stanger is a junior from Kirkland, Washington, studying music education. She is an inspiring leader and a tireless advocate for music in secondary and collegiate schools. In Gonzaga's Concert Choir, she serves as soprano section leader and hosts prospective students as a choral ambassador. As vice president of the Leadership Choir Council, she has coordinated outreach tours to Seattle and Portland, organizing festivals with hundreds of high school students. She founded the ACDA Student Chapter and serves as its president and represents Gonzaga beyond our campus as student representative on the Northwest American Choral Directors Association Board. As a Morris research fellow this summer, Annie will create a repertoire resource of solo songs by contemporary women composers for use by secondary teachers in order to advocate for underrepresented composers. Next year, Annie will serve as Concert Choir president, and in the spring, she will student teach at Ferris High School.
Beyond these accomplishments, Annie embodies the spirit of service and excellence of a musical Zag: she is a selfless and humble leader, she is humorous and generous in her collaborations, and she is passionate about bettering the lives of those around her through music.
More about Annie
Future Plans:
After I graduate in spring of 2019, I hope to be a choir teacher at a high school or middle school in the greater Seattle or Spokane areas.
How has your major contributed to your professional or personal development?
In my studies as a music education major, I have spent three semesters in secondary choir classrooms observing rehearsals and teaching lessons. Because of the experience I have gained in the field thus far, I will be well prepared not only to enter my student teaching semester next spring, but also to eventually have a classroom of my own.
What has been your proudest or most significant accomplishment during your Gonzaga career?
This semester, my conducting professor, Dr. Timothy Westerhaus, gave me the opportunity to rehearse and conduct the Chamber Chorus in a piece featured in the Bernstein centennial concert. I had never conducted in a concert before, and I was grateful that Dr. Westerhaus trusted me to conduct his top ensemble in performance.