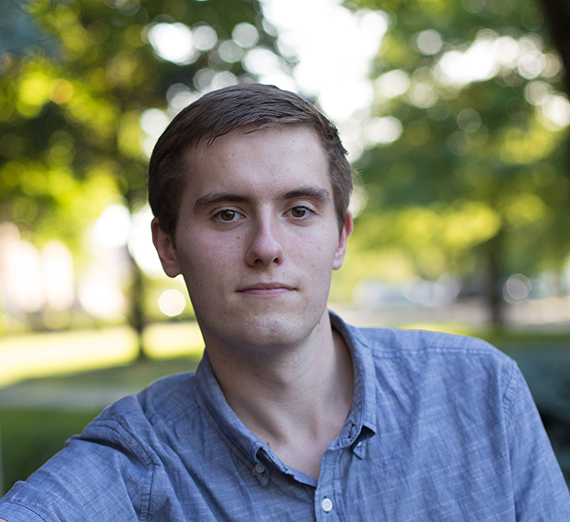 2018 Award: Theatre and Dance Academic Excellence and Citizenship Award
Major: Theatre Arts with Education Certification
Minor: Interdisciplinary Arts
Hometown: Highlands Ranch, CO
Extracurricular activities: Director of The Boone Street Hooligans, theatre performer, GUTS (Gonzaga University Theatre Sports), local pianist
About the award
Nathan possesses the highest GPA both cumulatively and in his THEA classes of our graduating seniors. He has distinguished himself immediately as an excellent student and as a leader. In the category of Citizenship, his vocal and musical abilities pair with his skills as a teacher and communicator such that he has taken a musical leadership role three times for our department while also acting in the shows. He has consistently been part of the main-stage and second-stage offerings of our season. His multi-year leadership of Boone-Street Hooligans has been important to the solidarity and integrity of that student group, and with his audition practices and open script submission policy Nathan has expanded it to include a more diverse range of students. Nathan is an outstanding collaborator, actor, musician, singer, teacher, and human being who has taken on roles beyond Gonzaga in Spokane's theatre scene. Nathan Patrick Nelson has the personal and professional stamina to go the long haul in this field.
More about Nathan
Future Plans:
In the fall I will be attending the New School of Drama in NYC to pursue an MFA in Acting.
How has your major contributed to your professional or personal development?
The Theatre arts major has allowed me to study all aspects of theatre, which has allowed me to work in multiple capacities in various theatres, such as Education Director and Music Director for The Modern Theatre, acting in CDA Summer theatre, and being a student electrician at the Magnuson Theatre. The faculty at GU each provided mentorship and training that allowed me to be a versatile artist and community member.
What has been your proudest or most significant accomplishment during your Gonzaga career?
I am really proud of the work I am leaving behind in the 2017-2018 theatrical season at GU. Hamletmachine was one of my absolute favorite projects, and a culmination of my training at GU. tick...tick...BOOM! was one of the most fulfilling roles I have ever played and taught me more about myself than any other role.