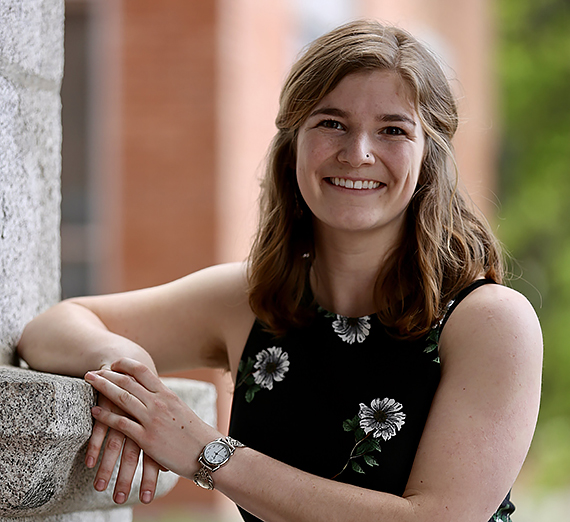 2018 Award: American Institute of Chemists Outstanding Senior Award
Major: Biochemistry
Hometown: Waterville, WA
Extracurricular activities: Gonzaga Outdoors Trip Leader, chemistry research, Science in Action, analytical chemistry TA, McDonald organic chemistry TA
About the award
Each year the American Institute of Chemists Student Award honors outstanding seniors majoring in chemistry or biochemistry. The awards are given in recognition of demonstrated ability, leadership, and professional promise.
This year, one of the AIC Student Award is awarded to Hanna Clements, who is not only an outstanding student, but an enthusiastic communicator of science and an accomplished researcher as well. She successfully started a new research project on the supramolecular chemistry of peptides, and through tireless pursuit of her project goals, was able to turn her imaginative designs into reality. She will be beginning Graduate School in Chemistry at the University of Utah next fall.
More about Hanna
Future Plans:
After traveling this summer, I will be attending the University of Utah in Salt Lake City to begin my Chemistry Ph.D. I hope to become involved in chemical education or science outreach to the public sector upon completion of my degree.
How has your major contributed to your professional or personal development?
Studying and doing science has taught me a lot about problem solving and the importance of sharing with others. Within the Chemistry department I have had the opportunity to practice teaching chemistry through TA programs, present my research and share its results, and connect with people outside of the sciences and engage with the importance of our work—all of which will be invaluable to my future in science.
What has been your proudest or most significant accomplishment during your Gonzaga career?
I am most proud of the supramolecular chemistry research project I have engaged with since my sophomore year. It has been an amazing opportunity to launch a research question and follow the path of discovery. I was honored to present my research at the American Chemical Society National Meeting this spring in New Orleans.
I also consider the friendships and mentorships in which I have been able to engage as my most significant accomplishment at Gonzaga.