Welcome to the College of Arts and Sciences at Gonzaga University!
I am delighted to serve the Gonzaga community as the new Dean of the College of Arts and Sciences. As a newcomer to Gonzaga and Spokane, I am taking in everything and am excited to share with you just a little about what makes the college special.
It begins with the people.
True to the Jesuit mission, Gonzaga really cares for the whole person. I have felt a deep sense of consolation from the warm welcomes I have received from students, staff, and faculty. I am blessed to join a community in which students, staff, and faculty are engaged in this work to be people for others.
The College of Arts and Sciences faculty engage in this work through dedicated, creative, and skillful instruction and mentoring, whether it is offered in-person or remotely. With a student-centered approach, students of the college are offered many opportunities to actively engage in class and advising sessions, conduct independent research with faculty mentors, undertake internships and service-learning opportunities to develop content knowledge and marketable skills in problem-solving, critical thinking, reasoning, communication, socially just practices, and competence in working with diverse teams. Indeed, graduates of our college can be found in serving and working all over the world in a variety of industries and non-profit organizations.
As a first-generation college student myself, education was partly seen as the means to a good salary. But I'd like to emphasize that these very same skillsets that make Arts and Sciences graduates so marketable also support our very human desires to live a good life.
We need to see and create beauty in the world, appreciate goodness in all its forms, and seek and share truth, which can be found in many disciplines. The College of Arts and Sciences houses a breadth of disciplines that foster this search for truth, beauty, and goodness including, the fine and performing arts, humanities, social and behavioral sciences, and math and the natural sciences. Faculty and staff in every single program and department in the college are committed to this work that is central to the Catholic, Jesuit, humanistic mission of defining a well-lived life.
So, when I welcome you to the College of Arts and Sciences, please know that there are many people—fellow students, faculty, staff, and alumni—who are also welcoming you into this community. May you enjoy your time with us!
Annmarie Caño, Ph.D., Dean, College of Arts & Sciences
Soul Searching: Envisioning an Anti-racist Practice in Higher Education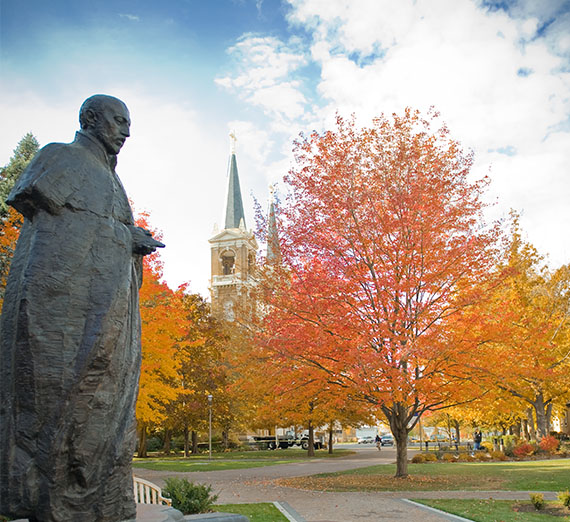 Within this time of racial injustice and the movements that are being organized across our nation and in higher education, the Deans of Gonzaga University developed a statement Soul Searching: Envisioning an Anti-racist Practice in Higher Education.