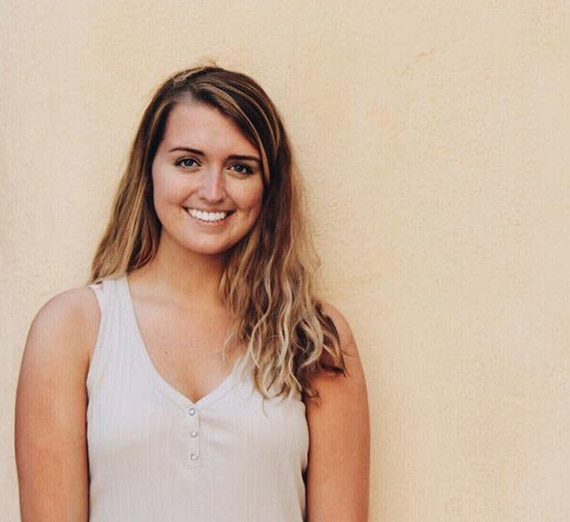 2019 Award: Martin P. Blum Scholarship Award in Recognition of Exemplary Academic Performance in French
Majors: French and Psychology
Hometown: Bainbridge Island, WA
Extracurricular activities: GU Women's Club Lacrosse, Modern Languages French tutor, Psychology Club Vice President, Alpha Pi Phi Sorority
About the award
The Martin P. Blum Scholarship Award goes to a student who demonstrates exemplary academic performance in French language, literature and culture. The French faculty of the Department of Modern Languages and Literature have unanimously chosen to bestow the 2018-19 Blum award on Paulina Bredy.
Since arriving at Gonzaga University in the fall of 2016, Paulina has excelled in her French classes. In fall 2018, Paulina participated in Gonzaga's Aix-en-Provence immersion program, where she distinguished herself by earning top grades in all of her French courses.
Paulina has greatly impressed the French faculty with her talent for languages, critical thinking ability, openness to other cultures, curiosity, and work ethic. She has earned a perfect GPA in courses taken in French both here and abroad. Because of Paulina's talent for languages and her dedication to the service of others, the French Program chose her as the program's tutor for spring 2019.
Paulina will continue her study of French in the 2019-2020 academic year, as she completes her French major along with a second major in psychology. In recognition of her exemplary academic performance in French, we take great pleasure in presenting the Martin P. Blum Scholarship Award to Paulina Bredy.
More about Paulina
Future Plans:
As for now, I am still deciding what I want to do after graduation. However, I plan to pursue a doctorate of psychology specializing in anxiety disorders or pursue medical school for a doctorate of psychiatry. Regardless of whichever option I choose, I hope to travel and potentially live abroad for a few years where I can put my French to use!
How has your major contributed to your professional or personal development?
My French major has contributed immensely to my personal and professional development. In the Fall of 2018, I had the opportunity to study abroad in Aix-en-Provence, a small town in southern France. Many locals spoke little to no English, so I had to learn quickly and adapt to the language barrier and culture. By the end of my semester, I was having fluent conversations with my host family, locals, and my professors, which definitely gave me confidence I never knew I would have.
What has been your proudest or most significant accomplishment during your Gonzaga career?
This award is my proudest accomplishment so far at Gonzaga because it shows that hard work and determination truly pays off in the end. I've been studying French since 7th grade and is something I am passionate and constantly excited to learn. It is an honor to be recognized for all my years of hard work, dedication, and passion.