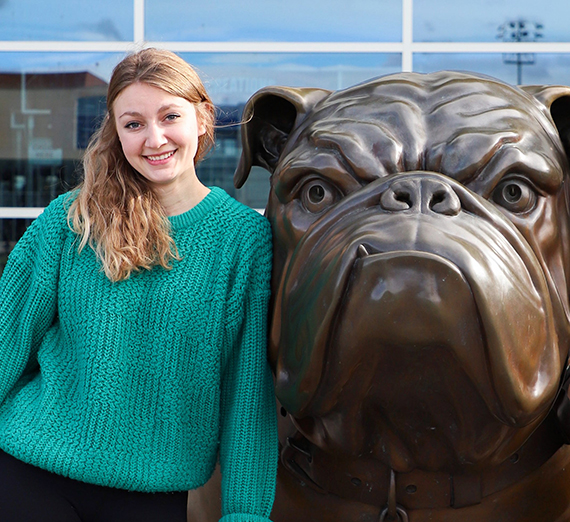 2018 Award: Albert Mann Debate Award
Major: Political Science
Minor: Women and Gender Studies
Hometown: Boise, ID
Extracurricular activities: Policy Debate Team
About the award
Each year the Communication Studies Department gives out an award to honor a second member of our debate team who demonstrates a commitment and dedication to serve both the debate team and the broader community. The award is named in honor of Albert Mann, former Gonzaga alum from the 1950s and a person who recognized the value a student's experiences in debate could offer their community. This year the Albert Mann Award for Service is given to Lauren Johnson. Lauren was selected to receive this award for distinguishing herself as not just a competitively successful debater, but as a caring and passionate advocate for others. Her involvement in mentoring high school students through her work at the Gonzaga Debate Institute over the past four years, as well as her daily contributions to building a culture of inclusion on campus, has served as a shining light for her peers. Gonzaga's loss will be the University of Wyoming's gain as Lauren will begin her graduate studies this fall in the UW Department of Communication Studies, while also serving as a graduate assistant coach for their nationally distinguished debate program.
More about Lauren
Future Plans:
I will complete my master's degree in Communications and Journalism at the University of Wyoming, and I have been hired to serve as the assistant coach to the University of Wyoming Policy Debate Team.
How has your major contributed to your professional or personal development?
My major has been more than influential in my personal and professional endeavors, it has taught me to critically think about all sides of social and political issues in order to formulate the most accurate and well-informed opinions and thoughts about the world, which has helped me discover the importance of self-reflection in productive communication. My major has also served as a stable reference base for my academic and activist pursuits in investigating the gendered implications that legal systems have had, and still have today, and the impact that asymmetrical laws and social systems have on women and non-normative bodies, which I hope my higher educational pursuits will help me continue to critique.
What has been your proudest or most significant accomplishment during your Gonzaga career?
I am extremely proud to be a first-generation college graduate, but my most significant accomplishment during my time at Gonzaga has been qualifying as a senior to the National Debate Tournament. This achievement is something I have worked toward since my novice year of debate freshman year in high school, and I feel an immense sense of pride and accomplishment in knowing that I never gave up and ultimately met my goal.