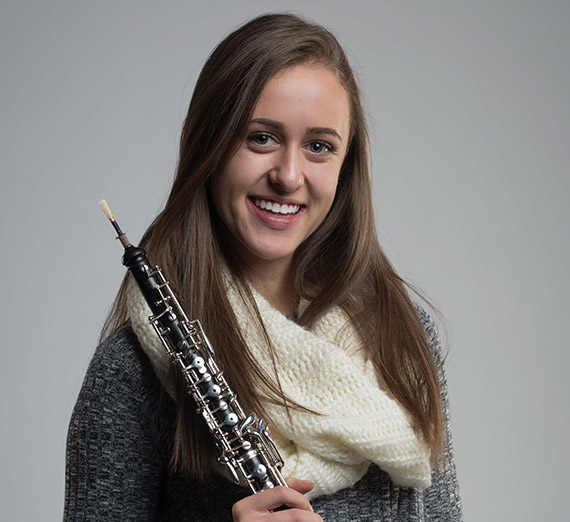 2019 Award: Department of Music Gordon Merwin Scholarship Award
Major: Music Education
Minor: Conducting
Hometown: Lake Tapps, WA
Extracurricular activities: Christian Life Community (CLC) Leader, avid skier and climber
About the award
The Gordon Merwin Scholarship was established by Jo Merwin to honor the memory of her husband, Gordon, who was a member of the Gonzaga Glee Club and Gonzaga Vocal Quartet from 1935 – 1939. This scholarship recognizes students who exemplify musical excellence, academic achievement, and a commitment to the Music Department's mission at Gonzaga University and throughout the broader Northwest community. Students exemplify this mission through leadership and excellence in musical performance, creation, advocacy, and innovation.
One of this year's three Gordon Merwin Scholarship recipients, Megan Shultz is a music education major and conducting minor, and one of the most accomplished musicians and scholars the Music Department has seen. She is an accomplished performer. A talented oboist and conductor, Megan performed a stellar solo recital in the Student Chapel last Fall, and has been principal and solo oboist in the wind ensemble and chamber winds the past four years, and as a conducting minor she led the Wind Ensemble in a public performance. This level of musical accomplishment on one instrument is usually sufficient for most musicians, but not for Megan, who also performed as a trombonist in the Jazz Ensemble, and was the featured piano soloist on the Jazz Ensemble's last winter concert. Megan is what some call a musician's musician, and she also excels academically, achieving the President's List every semester. She takes Gonzaga's mission of service to heart, serving as a Christian Life Community leader, President and student director of the Bulldog Band, and president of Gonzaga's Student Chapter of the National Association for Music Education.

Most importantly, she's a terrific person and role model, who is dedicating the next chapter of her life to sharing the gift of music with children, as she begins a career as a middle school band director.
More about Megan
Future Plans:
Next semester I will complete my student teaching at Sacajawea Middle School, and then I will be on the job hunt to land a position as a middle school band director!
How has your major contributed to your professional or personal development?
My major has contributed to both my professional and personal development. Professionally, the music department has set me up for a lifetime of teaching through my various music and education classes. Gonzaga has given me the knowledge I need to go out and effectively run a band classroom. And personally, this department has taught me invaluable lessons of effective leadership, perseverance, and strength through failure. Each time I fell, I was taught how to get back up and continue to fight for my goals. It takes an incredibly special department to teach you these things, and I am honored to have been a part of it.
What has been your proudest or most significant accomplishment during your Gonzaga career?
I have had many moments that I am proud of, but my favorite may be guest-soloing in Gonzaga's Christmas jazz concert. Piano has always been my favorite instrument to play, but I chose to make oboe my primary instrument in college. This year, Mr. Fague offered me the role as "Schroeder" at the jazz Christmas concert, meaning I would play the entire Charlie Brown Christmas set. Although extremely nervous, I accepted and worked relentlessly all semester to master each piece. I played my heart out and am so proud to have been given the opportunity to share my passion for music.