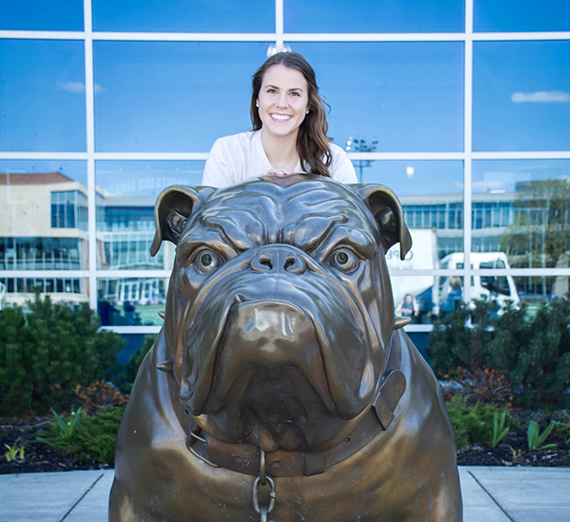 2018 Award:
Robert D. Prusch Award for Distinguished Service to the Department
Major:
Biology (B.S.)
Minor:
History Minor and Biology Research Concentration
Hometown:
Denver, CO
Extracurricular activities:
Ambassadors program, Gonzaga Science Scholars, Alpha Sigma Nu, LEADS Mentoring Program, President of GU Science Club, tutor, teacher's assistant
About the award
Each year the Biology Department gives two awards to honor individuals demonstrating academic excellence in biology, a commitment to their field as indicated by an exceptional research or service experience, and potential for significant professional achievement. The first award is named in honor of Robert and Claire McDonald, who have supported our department through their work-award program.
The Robert D. Prusch Award for Distinguished Service to the Biology Department is awarded to Katherine Drexelius. Drex was selected to receive this award for her tireless leadership and sharing of her intellectual gifts with her peers. In addition to her own high academic achievement, Drex worked very hard to help other students learn, experience, and enjoy science. She served as President of the Science Club, she tutored students in several venues, and she helped develop a mentoring program that pairs freshman science majors with older science majors. Drex has a talent for making her peers and younger students feel welcome, included, and important. As a student in the classroom, she made it cool to be intellectually curious. Drex is described by several professors as the most talented Teaching Assistant they have ever worked with.
More about Katherine
Future Plans:
I will be starting my training as a future physician at the University of Colorado School of Medicine in Aurora, CO. Although I'm not yet sure which specialty I will pursue, I am most interested in surgical specialties and OB/Gyn. And in the short term—I'm raising a Corgi puppy!
How has your major contributed to your professional or personal development?
Being a biology major has done MUCH more for me than allow me to take the pre-requisite classes to score well on the MCAT and attend medical school. Each science course I have taken—from organic chemistry, to climate change seminar, to histology—has shaped me into an analytical thinker. I am never content to understand just a small piece of the picture, but rather, with the help of my professors, have been able to integrate information to form a coherent whole. The challenges and rewards of problem solving have inspired me to continue to ask questions and seek meaningful answers in the healthcare field.
What has been your proudest or most significant accomplishment during your Gonzaga career?
I've always prided myself on making connections with others, on those moments of sincere conversation and support. Thus, I can't say that there has been one big moment, but rather I can pick out some of the meaningful connections I've made: successfully starting a new mentorship program for science majors, spending 30 minutes brainstorming with a professor about ways to foster diversity on campus, and assisting individuals in Science Club to continue to pursue their passions. Those are the moments at Gonzaga that have made my heart most full.