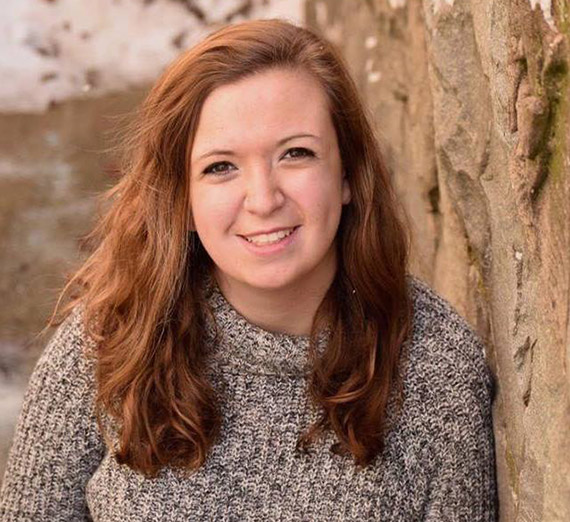 2019 Award: Anthony T. Wadden & Michael B. Herzog Scholarship
Major: English, Writing Concentration
Minor: Women's & Gender Studies
Hometown: Moses Lake, WA
Extracurricular activities: Reflection Editor-in-Chief (Student Media), Well-Being Intern (Office of Health Promotion)
About the award
In honor of English Department Emeritus Faculty members Dr. Anthony Wadden and Dr. Michael Herzog, Gonzaga University English Alum Chad Bogar established a scholarship fund to support outstanding English majors in their senior years. Each year, the Wadden-Herzog scholarship is awarded to one or two juniors who have exhibited leadership, initiative, and exceptional academic ability. This year, two Wadden-Herzog Scholarships are awarded to Emily Klein and Sarah Kersey.

Sarah Kersey is a talented writer and editor, dedicated to developing her craft. Already, Gonzaga has benefited greatly from the work that Sarah has produced and the leadership she has provided. She served as an Intern through the Digital Humanities Initiative in the Center for Public Humanities, researching and writing a concise biography of Miss Woldson and developing digital content for future exhibitions at the recently opened Myrtle Woldson Performing Arts Center. She has published her work in ten different editions of Gonzaga journals. Perhaps most notably, as just a junior she has already served impactful year-long terms as Editor-in-Chief of two important Gonzaga publications: Charter, a journal of academic and scholarly opinion, and Reflection, our journal of literature and arts.
More about Sarah
Future Plans:
After finishing my undergraduate degree at Gonzaga, I hope to pursue my master's in Fine Arts for creative writing. I hope to one day go into the realm of publishing and editing or to become an English professor at a university.
How has your major contributed to your professional or personal development?
As an English major, I have gained a new appreciation for the intricacies of the written word and the way it reflects our innate humanity. It has also allowed me to build upon my critical thinking skills, my writing techniques, and my overall analysis of the world around me.
What has been your proudest or most significant accomplishment during your Gonzaga career?
As a sophomore, I served as the Editor-in-Chief of Charter, Gonzaga's journal of scholarship and opinion. Over the course of my time as editor, I increased the submission count by 227% from the previous year. Due to my work at Charter, I received the Editor of the Year award at the Magis Awards ceremony, an award typically only given to seniors.