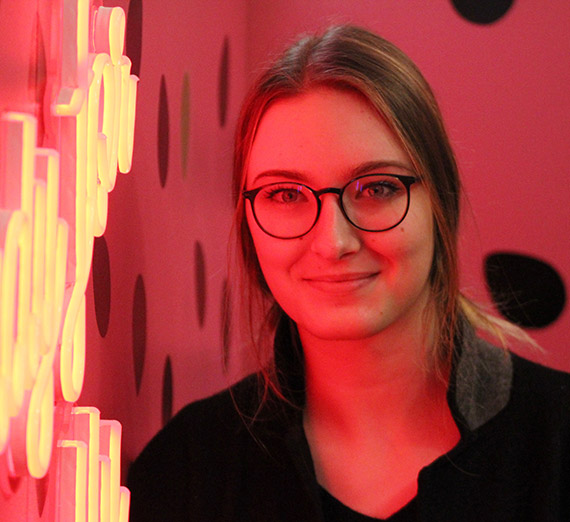 2019 Award: Senior Art Award
Major: English Literature
Minors: Art, Philosophy, and Leadership Studies
Hometown: Bonney Lake, WA
Extracurricular activities: Dance Team Captain, Student publications, Storytelling, and studying abroad
About the award
The senior art award recognizes a Gonzaga art major or minor whose portfolio of art and participation in the senior seminar course together demonstrate artistic excellence and significant potential for future accomplishment in the visual arts. This year the Senior Art Award recipient is Katie Lasko. Her senior portfolio of work was ambitious, well executed, and introspective. Her knowledge of contemporary art and where her own art sits in relation to that context is outstanding.
Katie is from Bonney Lake, WA, and is an English major with three minors in art, philosophy, and leadership studies. She has been an active participant in several extracurricular activities, including student publications, Zag Volunteer Corps, and Story Slam. She has also served in leadership roles at GU as Dance Team Captain and Orientation Leader. Katie hopes to have a creative career in some capacity and would love to move to a city, start building connections in the art world, and hopefully one day be able to fully articulate the importance of art in the development of the whole person.
More about Katherine
Future Plans:
I'm just now beginning to come to terms with wanting a creative career. I'm unsure how that's going to manifest itself in my life – whether I become a professor of art later on or settle into a creative niche in a big city, so I have no firm plans at the moment even though I've rolled countless possibilities around in my mind. However, as long as I continue to recognize art as the root of my passion, I feel confident knowing I'll be moving in the right direction as long as I utilize that passion as my guide.
How has your major contributed to your professional or personal development?
My English major, especially when coupled with my art and philosophy minors, taught me the value of critical thinking and introspection. The texts I've read over the years have prompted deeply thoughtful tracts that led to learning so much more than I'd ever expected outside the classroom. If anything, these courses of study have firmly taught me that I never wish to become stagnant or close-minded in my learning. With this combination of the humanities and a Jesuit education behind me, I have seen myself develop into a curious, strong-willed individual with an interest in listening to and learning about others.
What has been your proudest or most significant accomplishment during your Gonzaga career?
As a personal accomplishment, being in the senior art exhibit was a huge full-circle moment. Having spent the last four years working up to opening night, the pride I felt in completing this personal goal can be summed up in one instance: post-installation, stepping back from my senior art project was one of the single most gratifying moments of my time at Gonzaga. After all the years in classes, all the hours spent in Jundt, all the self-doubt and questionable logistics and active troubleshooting, my biggest project to date successfully stood in front of me as a testament to academic and artistic stamina.