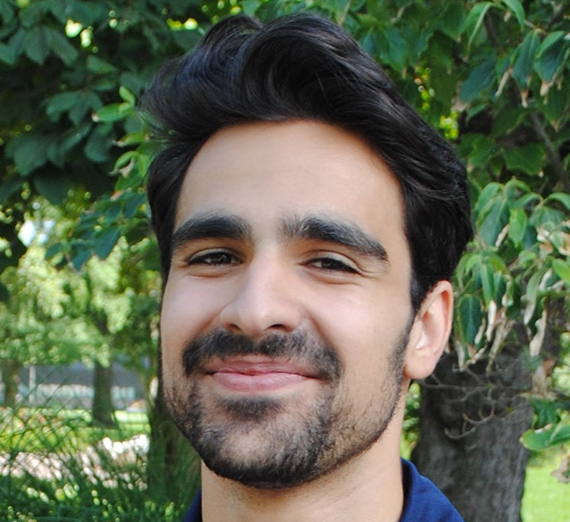 2018 Award: American Institute of Chemists Outstanding Senior Award
Major: Biochemistry (B.S.)
Hometown: Butte, MT
Extracurricular activities: Resident Assistant for Housing & Residence Life, Chemistry TA, Chemistry lab TA, Biology Peer Mentor, Science in Action volunteer, GU Running Club
About the award
Each year the American Institute of Chemists Student Award honors outstanding seniors majoring in chemistry or biochemistry. The awards are given in recognition of demonstrated ability, leadership, and professional promise.
It is our pleasure to present an AIC Student Award to Chad Hicks. Chad has been a highly awarded student, an assiduous, creative, and productive researcher, and an outstanding mentor to a great many students over his GU tenure. He has received awards for his research presentations, received a prestigious summer research fellowship through the Howard Hughes Medical Institute, and will be continuing his scientific career at Johns Hopkins University in the fall, where we have no doubt he will continue to shine.
More about Chad
Future Plans:
I will join the Biochemistry, Cellular, and Molecular Biology program at Johns Hopkins this fall to earn my Ph.D., with plans to become a teaching/research professor in the future.
How has your major contributed to your professional or personal development?
The Biochemistry major, with its research component, has challenged the way I think about science and about the world. While it has given me a great deal of knowledge and scientific intuition, it has also shown me how little I really know about the world around me, which I feel is equally important to recognize.
What has been your proudest or most significant accomplishment during your Gonzaga career?
The opportunity to take part in the Howard Hughes Medical Institute Exceptional Research Opportunities Program (HHMI EXROP) summer research experience at Emory University has been instrumental in opening doors for me in my scientific career development, and I am very grateful for the Gonzaga professors who gave me the experience and guidance to mold me into a competitive HHMI applicant. Without them and without Gonzaga, I doubt that I could have been able to take part in this EXROP summer experience.