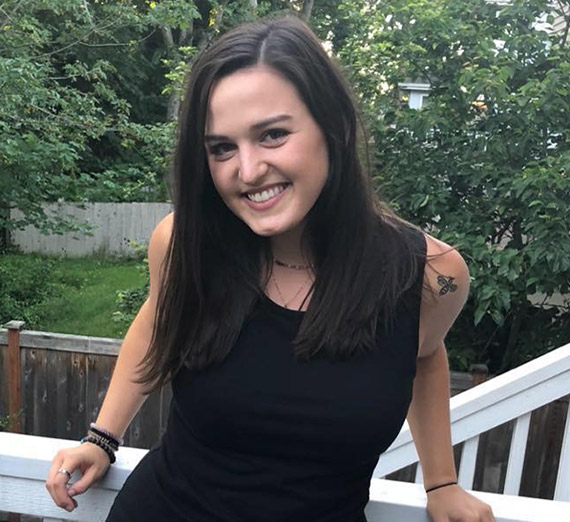 2019 Award: The Women's and Gender Studies Founders' Award for Excellence in Academics
Major: Political Science
Minor: Women's & Gender Studies
Hometown: Highlands Ranch, CO
Extracurricular activities: Dance Team, Student Media Account Executive, Fossil Free Gonzaga, Member Intern at the Lands Council
About the award
The Founders' Awards are named in honor of the seven women who, in 1991, established Women's and Gender Studies as an academic program at Gonzaga. As a way of acknowledging the relationship between feminist intellectual work and feminist praxis, each year the department makes two awards: one for achievement in academics and one for achievement in activism.

This year's award for achievement in academics goes to Mary Margaret (Maggie) Gates. By her own accounting, Maggie changed her majors and minors six times during her four years at Gonzaga. Maggie ultimately settled on the minor in Women's and Gender Studies and the major in political science, and she excelled in both. Maggie is deeply intellectually curious, as her wide-ranging sampling of academic departments illustrates, and she has demonstrated a passion for applying lessons learned in the classroom to making changes in the world. Maggie paired her semester studying in Washington, D.C. with an internship at the prestigious National Foundation for Women Legislators and devoted her time last summer to learning political leadership skills at the nonpartisan National Education for Women's Leadership institute. Maggie made sure that the students and professors in each course she took were attentive to the real-world implications of our knowledge production and consumption and made every classroom she was in more vibrant and productive as a result.
More about Maggie
Future Plans:
I'm planning on having a nice life. I plan on surrounding myself with people who help me grow and engage with meaningful work. After graduation I am going to work at an environmental non-profit and work on writing my personal manifesto. I'd also like to start a podcast (like every other millennial) and do a lot of hiking and yoga. My far-out future goals include pursuing a master's degree, writing a book, running for office, learning a new language, and planting a garden. Regardless of where I'm living or what I'm doing, I plan to work diligently to create a positive, more just world for future generations.
How has your major contributed to your professional or personal development?
Completing the Women's & Gender Studies minor has been the most influential part of my college experience. I have been pushed personally and academically through Women's & Gender Studies classes to think critically about the system we live in and challenge the status quo. The conversations I have with professors and peers help me see social justice issues with a new lens with different perspectives. Learning to incorporate feminist theory into my everyday actions, work, and activism is a takeaway I did not expect from the minor, but has ultimately been the greatest gift.
What has been your proudest or most significant accomplishment during your Gonzaga career?
There is not a specific moment or accomplishment that I am most proud of. I am mostly proud of the journey. After switching my major/minor around six times, I feel I have gained a wholistic education. Throughout the years I have pushed myself intellectually and imagined a feminist future that I believe in creating and met many awesome people along the way!