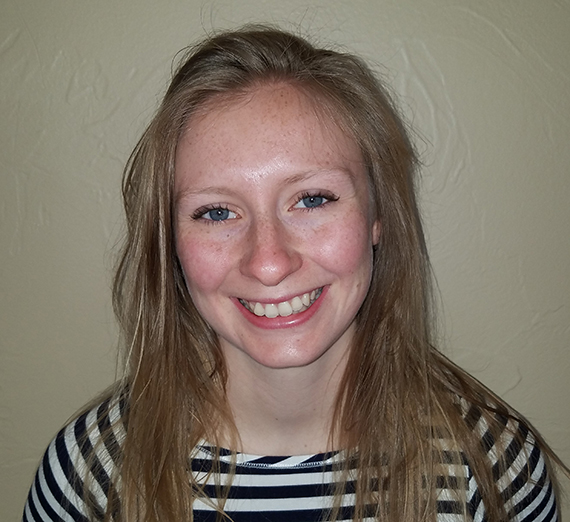 2018 Award: Environmental Studies Environmental Stewardship Award
Major: Environmental Studies and Spanish
Hometown: Bellingham, WA
Extracurricular activities: Gonzaga Environmental Organization (GEO), Fossil Free Gonzaga, Science in Action, Women's Ultimate Frisbee
About the award
Paige Hauter is an outstanding Environmental Studies and Spanish double major who has maintained a very high grade-point average while also being active in many environmental stewardship activities during her time at GU. Paige has been an active member of GEO since her freshman year. Her activities in GEO include serving as Treasurer over the past year and as a founding member of the student-led campaign for fossil fuel divestment, Fossil Free Gonzaga. Paige conducted conservation-oriented biological research for the past year, demonstrating an aptitude for scientific stewardship in addition to her other stewardship activities. Paige is the sort of person who steps in when hard work is needed, without question or complaint. She embodies the Gonzaga mission and is truly a woman for others. She plans on continuing to be an active leader in stewardship after graduation by working with 350.org or a similar organization as she works towards her goal of becoming a physician.
More about Paige
Future Plans:
My plan is to move back to Bellingham, WA, and get my certification to work as a nursing assistant. As I work as a nursing assistant, I'll take pre-med courses at a community college and apply to medical school in a couple years.
How has your major contributed to your professional or personal development?
My environmental studies degree has taught me about our worldviews and how to recognize issues from their systemic root causes, and my Spanish will allow me to expand my communication in the medical field.
What has been your proudest or most significant accomplishment during your Gonzaga career?
I am most proud of my work in Fossil Free Gonzaga. Working hard with many different people, we have made significant progress in getting Gonzaga to divest their endowment from carbon intensive companies.