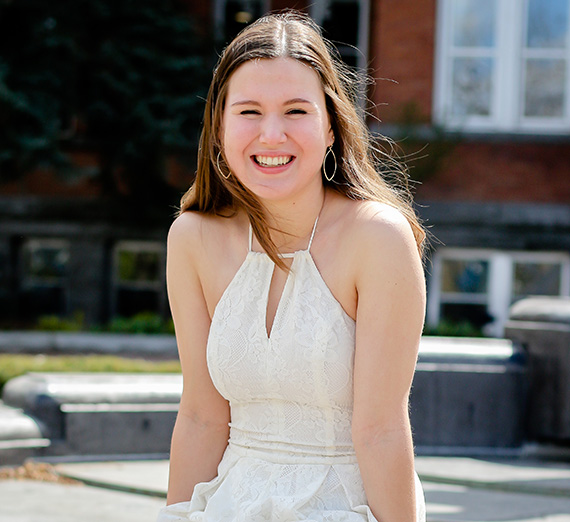 2019 Award: American Institute of Chemists Outstanding Senior Award
Major: Biochemistry
Minor: Philosophy
Hometown: Medford, OR
Extracurricular activities: Organic chemistry lab TA, prep lab assistant, Organic chemistry lab TA, prep lab assistant
About the award
Each year, the American Institute of Chemists Student Award honors outstanding seniors majoring in chemistry or biochemistry. The award is given in recognition of demonstrated ability, leadership and professional promise.

This year, the AIC Student Award is awarded to Sophia Dewing. Sophia is an outstanding student in many ways. She has boundless intellectual curiosity about not just chemistry and biochemistry, but its connections with society and social issues of our time. She has given many hours of her time in service to the department as an outstanding teaching assistant, and she has distinguished herself as a creative, insightful researcher who can communicate science clearly and effectively. Sophia will be attending graduate school at Penn State University in the fall, working toward her Ph.D.
More about Sophia
Future Plans:
I will be attending Penn State next fall as a Ph.D. student in the Biochemistry, Microbiology, and Molecular Biology program. I hope to do a post-doc after obtaining my Ph.D., spend a little time working in a national lab, and then eventually return to university to teach classes in chemistry as well as on the intersection between science and philosophy.
How has your major contributed to your professional or personal development?
Biochemistry has taught me how to work long hours and balance what sometimes seems like an impossible amount of coursework. It also gave me a more positive attitude towards academics in the sense that it encouraged me to look beyond mandatory course material to fully understand concepts and processes because I wanted to instead of because I had to. Overall, biochemistry has changed my relationship with school and made me into a scholar instead of simply a student; I am grateful for that.
What has been your proudest or most significant accomplishment during your Gonzaga career?
My proudest moment was definitely getting into the BMMB program at Penn State, it was something I didn't expect and that I am so excited for moving into the future.