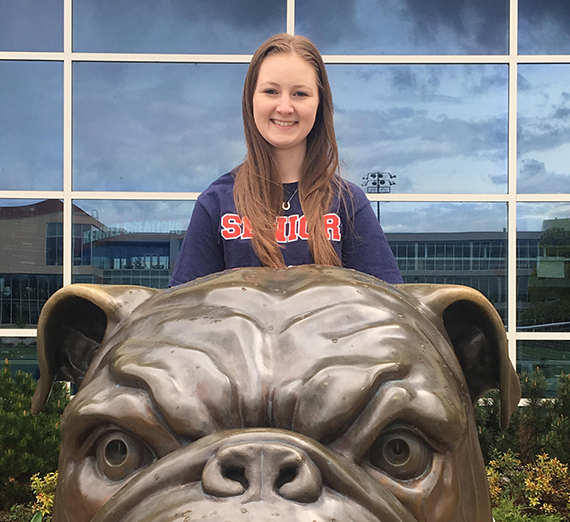 2918 Award: Outstanding Senior Student Award in Sociology
Major: Sociology and Environmental Studies
Hometown: Sammamish, WA
Extracurricular activities: Member of Gonzaga's Ignatian Family Teach-in for Justice Delegation, member of Alpha Sigma Nu, member of National Society of Collegiate Scholars, Walking School Bus volunteer
About the award
The Outstanding Senior Student Award in Sociology is awarded to individuals who demonstrate high academic achievement in their area of study (both in the classroom and outside), who can demonstrate an advanced understanding and ability to apply critical thinking within their field, have demonstrated their understanding of the sociological imagination in their written work, and who actively participate in community service.
This year, the Outstanding Senior Student Award in Sociology is awarded to Ashley Trunnell, who has demonstrated an impressive level of academic distinction and community service. Ashley was selected to receive this award because of her ability to earn a 3.79 GPA while double majoring in Sociology and Environmental Studies while also participating in extracurricular and co-curricular service activities that demonstrate her leadership, passion, and commitment to social justice. Among others, Ashley's activities include participating in Justice in January Immersion Service as both a participant and as a student leader, the Ignatian Family Teach-in for Justice, the Walking School Bus, and the Zag Study Buddies. Immediately after graduation Ashley will join the Jesuit Volunteer Corps in Portland, Maine, after which she plans to pursue graduate studies in public policy.
More about Ashley
Future Plans:
Next year I will serve in the Jesuit Volunteer Corps in Portland, Maine with the Maine Hunger Initiative. Then I plan to attend graduate school to obtain a master's degree in Public Policy in order to become a policy analyst.
How has your major contributed to your professional or personal development?
My sociology major has given me both an academic and experiential understanding of social justice, and it has influenced how I navigate my everyday life. It has also inspired me to dedicate my life to service and social justice through the Jesuit Volunteer Corps and in my professional career by addressing systemic injustices.
What has been your proudest or most significant accomplishment during your Gonzaga career?
In addition to winning this award, my proudest and most significant accomplishment during my Gonzaga career was advocating for Immigration Reform to my congressional representatives on Capitol Hill in Washington, D.C., with Gonzaga's Ignatian Family Teach-in for Justice Delegation.