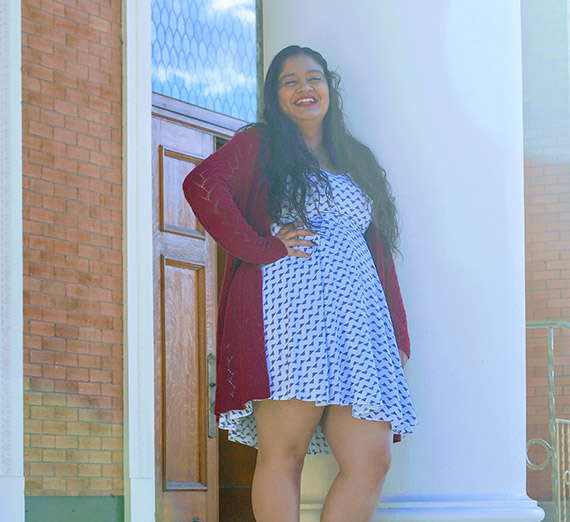 2019 Award: Communication Studies Outstanding Student Award
Major: Communications Studies
Minor: Public Relations
Hometown: Quincy, WA
Extracurricular activities: CCE's Youth Programs, Ignatian Family Teach-In for Justice Delegation, Students Advocating Sexual Health Awareness (SASHA), La Raza Latina
About the award
Francis Argueta lives the mission of the University. Francis's academic performance is exceptional and represents some of the highest caliber among Communication Studies majors. She carefully and thoughtfully blends theory and activism to engage with how criminality and the prison industrial complex are formed, how intersectionality and hip-hop merge, and how migration and labor are rhetorically shaped. She is an advocate for improving the campus climate for students of color and other students from underrepresented groups. Her co-curricular work with the Center for Campus Engagement also exemplifies the university mission and her expert understanding of the power that communication has to marginalize and oppress as well as to transform communities. She traveled to Washington, D.C. to participate in the Ignatian Family Teach-In for Justice, where she and a group a students met with Washington state representatives to advocate for more just policy in relation to immigration and mass incarceration. In addition, as the program coordinator for the university's mentor outreach program, she develops programming aimed at encouraging students in their academic and social pursuits. This work with both local youth groups and national activist organizations exemplifies being with and for others.

In short, Francis is a model student who embodies our department goal to "think critically and engage responsibly with the problems and issues of our communities" and to "work toward justice and the common good."
More about Francis
Future Plans:
My current plan is to have a gap year of service, where I will be serving in Los Angeles through Ignatian Service Corps run by Loyola Marymount University. Following my gap year will include some kind of post-graduate schooling – either graduate school or law school.
How has your major contributed to your professional or personal development?
Being a communication studies major has helped me discern what was important to me. Communication studies being such a broad discipline, I was able to connect it back to my work outside of the classroom. In turn, it was my work outside of the classroom that put me on the path that I am now. It was a mutual relationship that helped me make decisions about my life.
What has been your proudest or most significant accomplishment during your Gonzaga career?
My proudest accomplishment at Gonzaga has been my leadership in CCE Youth Programs, one year with middle-school students and this year with high school students. It has been some of the greatest moments of my time at GU, and it was through mentoring that I was able to learn more about myself and truly grow into the person I am today.