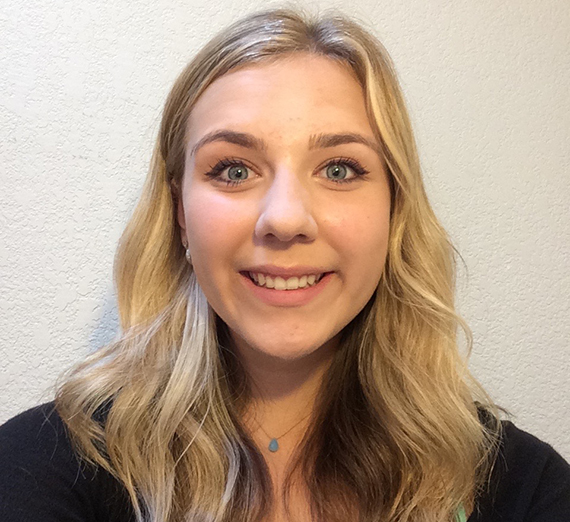 2018 Award: Martin P. Blum Scholarship Award in Recognition of Exemplary Academic Performance in French
Major: French
Hometown: Tacoma, WA
Extracurricular activities: Gonzaga University Choir Choral Ambassador and member, French Club President
About the award
The Martin P. Blum Scholarship Award goes to a student who demonstrates exemplary academic performance in the study of French language, literature, and culture. The French faculty of the Department of Modern Languages and Literature have unanimously chosen to bestow this year's award on Brianna Kangas.
Since arriving at Gonzaga University in the fall of 2016, Brianna has taken four French courses at the intermediate and advanced levels. In all of her French classes, Brianna has displayed outstanding intellectual gifts—a prodigious talent for languages, eloquence in both speech and writing, and exceptional critical thinking ability. She has also displayed personal qualities that support and enrich language study: open-mindedness, an exemplary work ethic, curiosity, engagement with other cultures, a desire to lead, and a concern for others. This spring, Brianna is joining a select number of Gonzaga students when she becomes a member of Phi Sigma Iota, the International Honor Society for language study. Next year, Brianna will go to Aix-en-Provence, where she has applied for and been accepted into a highly competitive French Honors Program. In recognition of her exemplary academic performance in French, we take great pleasure in presenting the Martin P. Blum Scholarship Award to Brianna Kangas.
More about Brianna
Professional Goals:
Although I have not quite decided on where my career path will take me after graduating, I do at some point hope to join the Peace Corps and teach in a region where I could use my French speaking skills. No matter where my career takes me, I hope to continue using my French in ways to help others.
How did you come to declare a French major?
My mom taught French for a brief period of time, and she was the one who first introduced me to the language. Then, in high school I took French classes with an incredible teacher who inspired me to want to at least minor in French in college. After taking my first couple of French classes at Gonzaga and working with the amazing French teachers here, I decided that I wanted to declare myself as a French major.
How has studying a foreign language contribute to your academic development?
Studying a foreign language overall has given me a broader perspective of the world and has made me a more well-rounded individual. Studying French has increased my communication and leadership skills, giving me a greater perspective on not only a different culture, but also shedding light on my what makes my own culture unique. I also often find that many of the topics we discuss in class often relate to my other core classes and give me a new outlook on certain issues that society still faces today.