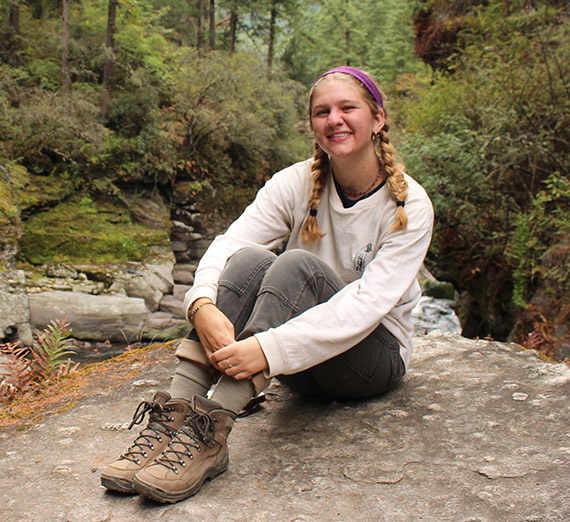 2019 Award: Environmental Studies Environmental Stewardship Award
Major: Environmental Studies
Minors: Solidarity & Social Justice, Journalism
Hometown: Los Angeles, CA
Extracurricular activities: Fossil Free Gonzaga, 350 Spokane
About the award
Throughout Olivia's time at Gonzaga she has embraced opportunities to apply what she learned in the classroom to her experiences on campus and in the greater Spokane community. As a freshman and sophomore, she was involved in Gonzaga Environmental Organization (GEO), helping to organize different environmentally focused events as well as implement sustainable practices across campus. She has also been a member of the student divestment movement Fossil Free Gonzaga since freshman year. Through student support, speaker series, and direct-action, Fossil Free Gonzaga has continued efforts to persuade Gonzaga to align its actions with its Jesuit mission statement, exemplifying "solidarity with the poor and vulnerable, and care for the planet."
Olivia has also embraced exciting opportunities to express her concern for the environment and the Spokane community outside of Gonzaga's campus. This past summer she worked for The Lands Council as a Toxics Outreach Specialist, where she spent most of her time along the Spokane River informing people about the toxins present in the River, such as lead and PCBs, and how to recreate and fish safely. Much of her outreach focused on talking to low-income and homeless people, since they are often most affected by environmental injustices. In addition to her work with The Lands Council, she has also become very involved with the local climate action group 350 Spokane. Starting out as an intern, she was later elected as the organization's Secretary, taking on the many important tasks required for effective community organizing. Working with 350 Spokane has taught her the power of grassroots movements and the change they can bring. We are proud that she embodies Gonzaga's mission to educate women and men who are for and with others.
More about Olivia
Future Plans:
After graduation, I am planning to travel around New Zealand for a few months. While there, I will participate in the program World Wide Opportunities on Organic Farms (WWOOF), where participants work on organic farms in exchange for lodging. Through this experience, I hope to learn more about sustainable agriculture and ways to address food insecurity. Once I move back to the States, I hope to find a job working for a non-profit that focuses on environmental justice.
How has your major contributed to your professional or personal development?
One of my biggest takeaways from my four years at Gonzaga is the importance of intersectionality. With the combination of my Environmental Studies major and Solidarity & Social Justice minor, I've become aware of how nearly all of the social justice issues we face today are interrelated and that climate change will exacerbate the inequalities many are already facing. This knowledge has allowed me to recognize the underlying systems and structures that have perpetrated climate change and other injustices, as well as ways to more effectively and better address these problems. Because I've gained a greater understanding of these issues, I believe that I am better prepared to enter the workforce and be a global citizen.
What has been your proudest or most significant accomplishment during your Gonzaga career?
My proudest accomplishment while at Gonzaga was studying abroad in Bhutan, a small country nestled in the Himalayan Mountains. I was able to get out of my comfort zone and live for in a semester in a culture that was very different from anything I had ever been exposed to.