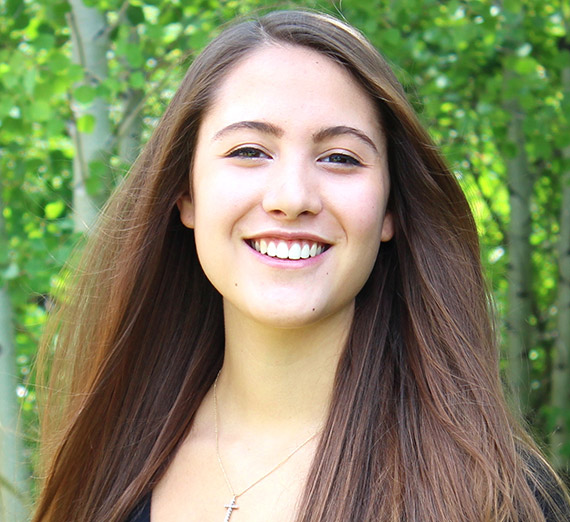 2019 Award: Jerry Kohls Excellence in Philosophy
Majors: Political Science and Philosophy
Hometown: Jackson, WY
Extracurricular activities: Gonzaga University Debate Team, Ethics Bowl, Wolff Fellowship
About the award
The Kohls Award is awarded to the most outstanding junior or senior student in Philosophy. This award is named in honor of Jerry Kohls, who taught and studied Philosophy with a joyfulness that left its mark on our students and his colleagues in the Philosophy Department.

This year's Kohls Award winner is Ms. Gabriella Castro. Gabriella is a double major in philosophy and political science, and she will begin law school next year, with the intent of pursuing a career in public service. Gabriella has distinguished herself both in and out of the classroom in her time at GU. Her extracurricular activities included distinguished participation on both the Ethics Bowl and Debate teams. She also interned at the Center for Social Justice on campus, and she did a summer internship at a policy firm in Washington, D.C.

Faculty who nominated Gabriella offered high praise for her work in their nominating letters. One praised Gabriella for her intellectual curiosity, for her ability to ask probing questions, and for the ability to "bring the class discussion alive." Several noted her ability to balance respect for others and openness to new ideas, with a willingness to challenge the arguments put forth by her colleagues and her teachers. Faculty also praised Gabriella for her ability to combine complex theoretical reflection on concepts such as justice, with in-depth and nuanced practical application to concrete issues.

Gabriella stood out from a very talented group of nominees for this award. Congratulations, Gabriella!
More about Gabriella
Future Plans:
Next year, I will be pursuing a J.D. at the Pepperdine University School of Law in Malibu. While there, I will be focusing on public interest law. I have a strong interest in giving back to the communities I am in, no matter where that may be!
How has your major contributed to your professional or personal development?
Philosophy has opened so many doors, both mentally and physically. Not only has it made me a better reader, writer, and thinker, but it has changed the way I live my life. From ethics to contemplating ontology, I find myself really striving to make meaning out of my being and to live the "good" life. I like to think this makes me a better person, but you might have to ask my friends and family; I think they are sick of hearing about my existential dilemmas!
What has been your proudest or most significant accomplishment during your Gonzaga career?
This is a tough question. I would argue that my greatest accomplishment is actually an accumulation of all my work here. It's the person I've become, the commitment I've discovered for others, and the skills I have developed that will make me the best possible advocate. If pressed, though, I would say getting into eight law schools was pretty cool too!