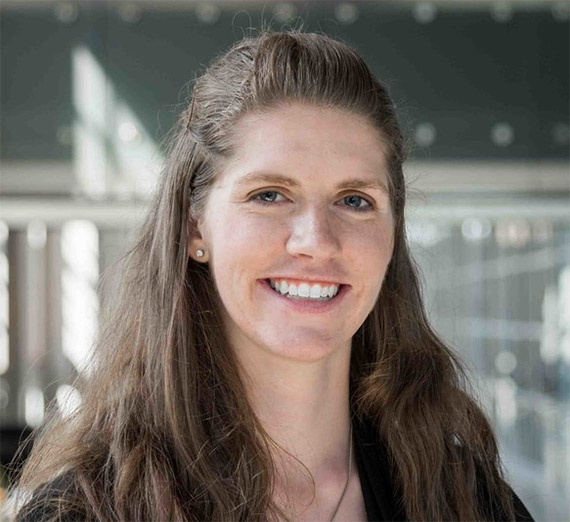 2019 Award: Department of Music Gordon Merwin Scholarship Award
Major: Computer Engineering
Minors: Jazz Performance and Computer Science
Hometown: Spokane, WA
Extracurricular activities: Bulldog Band, private fiddle/violin teacher, SCUBA diving, hiking, hand-making greeting cards, spending time with friends and family
About the award
The Music Department Gordon Merwin Scholarship was established by Jo Merwin to honor the memory of her husband, Gordon, who was a member of the Gonzaga Glee Club and Gonzaga Vocal Quartet from 1935 – 1939. This scholarship recognizes students who exemplify musical excellence, academic achievement, and a commitment to the Music Department's mission at Gonzaga University and throughout the broader Northwest community. Students exemplify this mission through leadership and excellence in musical performance, creation, advocacy, and innovation.
One of three recipients of the Gordon Merwin Scholarship, Mikaela Croskrey is an exemplary student and musician who has successfully balanced her passion for music with the rigorous demands of the honors program, computer engineering major, and minors in computer science and jazz performance. She is a well-rounded musician who has performed on bass in the Gonzaga Jazz Ensemble, Jazz Combos, and Bulldog Band and violin in the Gonzaga Symphony Orchestra and String Chamber Ensemble. Mikaela has also performed with GU Choirs, university fundraisers, student composition recitals, at the Ignatian Gala, and professionally with the Hot Club of Spokane, local churches, and her family band.
Mikaela is a thoughtful musician always striving to most effectively convey the musical objectives of a given piece of music. Her bandmates very much respect and appreciate not only her thorough reflections and assertions during rehearsals, but also her often dry delivery with a Mona Lisa smile.

Mikaela will begin her career at Katerra as a Software Engineer beginning June 3rd. Her goal is to work for a company that designs music equipment such as amplifiers, effect pedals, and synthesizers so she can combine her passion for music and her engineering skills.
More about Mikaella
Future Plans:
I am currently working on lining up a computer engineering job either in the Spokane area or in the Pacific Northwest. My target job would be to work for a company that designs and/or produces music equipment such as amplifiers, effect pedals, synthesizers, etc. I am excited to combine my engineering skillset with my passion for music to accomplish great things. I would also like to continue to perform and teach part-time in addition to a full engineering career.
How has your major contributed to your professional or personal development?
Majoring in Computer Engineering has been a welcome challenge and rewarding experience. Engineering, music, and honors is a difficult combination to handle all at once, however the community and faculty at Gonzaga have made balancing all of my commitments and obligations possible while encouraging me to grow in both academic and non-academic settings. Specifically, studying engineering has developed by time management, attention to detail, and collaboration skills.
What has been your proudest or most significant accomplishment during your Gonzaga career?
My most significant accomplishment during my time at Gonzaga has been the amount of music collaborations and interdepartmental projects that I have been a part of. I had the opportunity to join the GU choirs on violin for one or more concerts every year, and the high point was being invited to join the Chorus Choir on their Seattle recruitment tour, where I had the opportunity to play in several beautiful cathedrals and chapels. I also had the opportunity to perform the work of my peers at the student composition recital and be involved in two collaborations with the dance department.