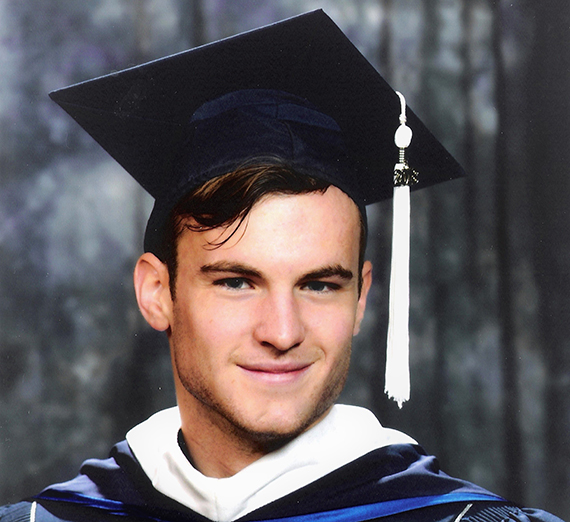 2018 Award: Outstanding Senior Student Award in Criminal Justice
Major: Criminal Justice
Hometown: Black Diamond, WA
Extracurricular activities: Internship at Center for Justice, intramural sports, institutional position in the Gonzaga Psychology office
About the award
The Outstanding Senior Student Award in Criminal Justice is awarded to honor individuals who demonstrates high academic achievement in their area of study (both in the classroom and outside), who can demonstrate an advanced understanding and ability to apply critical thinking within their field, who have demonstrated their understanding of the complex issues of justice in their written work, and who actively participate in community service.
This year, the Outstanding Senior Student Award in Criminal Justice is awarded to Joshua A. Simmons, who has demonstrated an impressive level of academic distinction and community service. Joshua was selected to receive this award because of his ability to earn a 3.91 GPA and being named on the "President's List" every year at Gonzaga University. Josh has demonstrated his commitment to the field of Criminal Justice by the fact that at the end of this year he will have completed 58 credits in the major, doubling the number needed to earn the B.A. in Criminal Justice. At the same time, Josh has participated in extracurricular and co-curricular service activities, which have demonstrated his leadership, passion, and commitment to justice. Josh's activities include service at the Center for Justice, the Union Gospel Mission, and Catholic Charities, to name just a few. Finally, Josh received the distinguished Mary Stuart Rogers Gonzaga University community service and social justice scholarship for 2017-2018. After graduation Josh plans to gain further experience within the criminal legal system before moving forward to law school.
More about Joshua
Future Plans:
Work within the criminal legal system to gain vocational experience before attending law school.
How has your major contributed to your professional or personal development?
It has helped me realize, and has strengthened, my passion for justice. In fact, it has given me ideas on how to effect justice in my future endeavors. I've also become more socially conscious and personally active.
What has been your proudest or most significant accomplishment during your Gonzaga career?
Receiving the Mary-Stuart-Rodgers scholarship for my academic achievement and commitment to enacting social justice in the world.