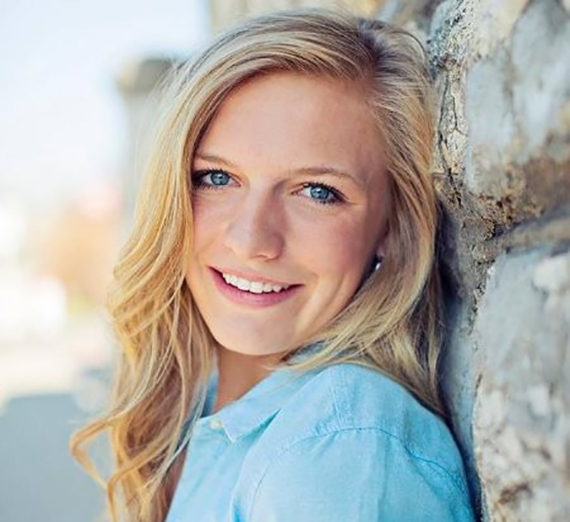 2018 Award: Robert and Claire McDonald Award for Distinction in Biology
Major: Biology, with Research Concentration
Minor: Entrepreneurial Leadership
Hometown: Saint Joseph, MO
Extracurricular activities: Hughes After Dark, Ambassadors, research assistant in Allen Lab, Alpha Sigma Nu, Hogan, Science Scholars, Science in Action, Second Harvest Volunteer
About the award
Each year the Biology Department gives two awards to honor individuals demonstrating academic excellence in biology, a commitment to their field as indicated by an exceptional research or service experience, and potential for significant professional achievement. The first award is named in honor of Robert and Claire McDonald, who have supported our department through their work-award program. The second is named in honor of Robert Prusch, the long-time Biology professor and chair who was the architect and tireless builder of our current department.
The Robert and Claire McDonald Award for Distinction in Biology is awarded to Megan Zimbelman. Megan was selected to receive this award because of her strong intellectual approach to her studies and her high academic achievement. She was a mature learner in all her classes, and as a sophomore lab student, she was selected to present her research at the Howard Hughes Medical Institute Phage Symposium. She was a skilled and dedicated Teaching Assistant and mentor, helping students perform at their best. Megan's professors note that in class discussions of primary research literature, Megan exhibited great insight, and made contributions as if she were a seasoned graduate student.
More about Megan
Future Plans:
In the fall of 2022, I will be attending the University of Pennsylvania School of Dental Medicine to pursue my doctorate in dental medicine.
How has your major contributed to your professional or personal development?
My four years at Gonzaga have been transformative. I have been challenged by different perspectives, learned to be adaptive in new situations, and have been shaped through the many relationships I've made within GU and the Spokane community. As I start my journey of becoming a health care professional, I am grateful to have had an enriching undergraduate experience that fostered my passion for the sciences and desire to be impactful within my future communities.
What has been your proudest or most significant accomplishment during your Gonzaga career?
My proudest moment at Gonzaga was being accepted into one of the top dental programs in our nation. This culminating accomplishment would not have been possible without the passionate faculty here at GU and the many involvement and leadership opportunities of which I was able to be a part.